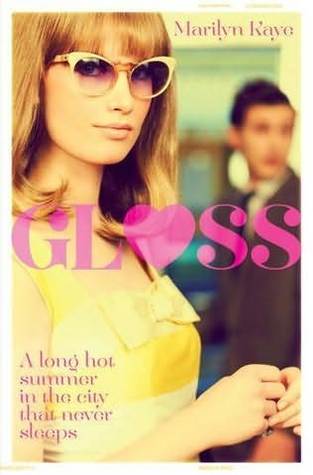 Gloss
By Marilyn Kaye Series:
Gloss #1
Source
Library
Published by
Pan Macmillan
on June 6, 2013
Rating:

New York, 1963.

Fashion, music and attitudes are changing, and there's nowhere in in the world more exciting. Sherry, Donna, Allison and Pamela have each landed a dream internship at Gloss; America's number-one fashion magazine.

Each girl is trying to make her mark on New York and each finds herself thrown head-first into the buzzing world of celebrity, high-end fashion and gossip. But everything isn't as glamorous as it seems - secrets from the past threaten to shatter their dreams.

They're finding out that romance in New York is as unpredictable and thrilling as the city itself.
I was drawn to this book because of its cute cover, and I liked the sound of a story set in New York in the early 60s. Fun!
I really enjoyed the setting, and loved reading about the styles and music of New York at that time. It was also interesting to read about the different opinions the characters had at that time about things like women in the workplace.
The four girls – Sherry, Donna, Allison, Pamela – came from very different backgrounds but were, in their own ways, naive about life in New York, and even their own futures. Part of the fun of this book was seeing their beliefs and expectations challenged and, in some cases, changed over the course of the story.
Unfortunately I didn't really feel like I got to know any of the characters very well. The girls seemed flat and I didn't really feel that I connected to any of the girls.
The ending was a bit too neat and tidy for me. But if you like happy endings, with all loose ends cleared up, you'll be pleased. This was a light, fun, fluffy read that was fairly enjoyable. I didn't love it but for those looking for some light romance and a fun setting, I recommend this book.