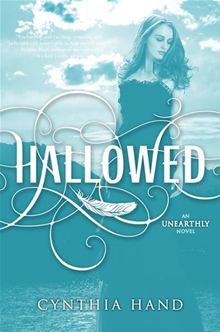 Hallowed
By Cynthia Hand Series:
Unearthly #2
Source
Library
Published by
HarperTeen
on January 17, 2012
Rating:

For months Clara Gardner trained to face the fire from her visions, but she wasn't prepared for the choice she had to make that day. And in the aftermath, she discovered that nothing about being part angel is as straightforward as she thought.

Now, torn between her love for Tucker and her complicated feelings about the roles she and Christian seem destined to play in a world that is both dangerous and beautiful, Clara struggles with a shocking revelation: Someone she loves will die in a matter of months. With her future uncertain, the only thing Clara knows for sure is that the fire was just the beginning.
Warning: spoilers for Unearthly!
This is the second book in this series, following Unearthly.
I liked this book just as much as I liked its predecessor. Now that Clara has  learned that Christian is another angel, and that he too had a vision about the fire, things have become even more complicated. She can't help but feel drawn to Christian, despite her feelings for Tucker. And then she has another vision, which indicates that someone close to her will die.
What I loved about this book was that, despite seemingly constant indications that she and Christian are destined to be together, Clara is fairly consistent in her insistence that she chooses Tucker. That whole free-will thing – gotta love it. And while I understand that Christian and Clara are both angel-blood, share certain abilities, and that Christian understands things about Clara's life in a way that Tucker cannot, I want her to be with Tucker. I love that he is just a normal guy and loves her for who she truly is, not because he feels that they're meant for something. I'm not one for Destiny and belonging to each other or whatever it is that she feels about Christian. I know, since it's a love triangle, that things between Clara and Christian will progress in some way, but I really do hope that, at the end of it all, she can be with Tucker (because I also don't buy this whole 'he's better off without me' thing she has going on by the end of the book!).
I don't want to spoil anything re: the major death in the story, so I'll just say that it didn't really surprise me but it gave me Feelings – it hit me harder than I expected it to! And I'm so curious to see what will happen in the wake of this event.
The storyline involving Samjeeza and Black Wings is getting more and more fascinating. I strongly suspect that Clara's brother Jeffrey will be tempted to the dark side – I feel like the author is giving some pretty big hints about him heading down a bad path – and I loved the big reveal about what Jeffrey's purpose was and how it linked back to events from Unearthly.
A lot more is revealed to Clara about her family, other angel-bloods in her community, and her own abilities, and I liked that there was still more for her to learn. I can't wait to read the next book in the series, Boundless. It really felt like there was a lot of momentum towards the end of the book re: Black Wings and angel-blood, and I hope that carries on in the next installment. I definitely recommend this book (and series) for fans of supernatural YA!