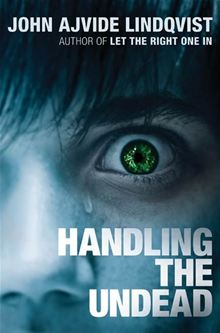 Handling the Undead
By John Ajvide Lindqvist Source
Library
Published by
Text Publishing
on 2005
Rating:

Something very peculiar is happening in Stockholm. There's a heatwave on and people cannot turn their lights out or switch their appliances off. Then the terrible news breaks. In the city morgue, the dead are waking up...
I borrowed this from the library because I read and enjoyed Lindqvist's debut novel, Let the Right One In, a while back and was interested in reading more of his work.
This is not your typical zombie book. This is more about the families and loved ones of the 'reliving', as they are referred to in this book, than it is about the reliving themselves. If that appeals to you, I would recommend this book.
Through the three families in this book – David and his son Magnus, and the reliving Eva (David's wife and Magnus's mother); Anna and her father Gustav and Anna's reliving son Elias; and Flora and her grandmother Elvy, and Elvy's reliving husband Tore – different viewpoints on this reanimation are represented: it is the end of days; it is a miracle; it is a burden; and more. For some, it's a sign that death is not the end. For the politicians, it becomes a debate about whether or not the reliving have any rights, and how society should deal with them.
This was not necessarily a scary or horror story – although there were moments that chilled me, they were rare and I don't think the point or purpose of this story is to flat-out frighten. It's a slow moving story but one that I couldn't really put down. I was drawn to the characters (particularly David and Magnus) and could feel that the book was building up to something – there was so much tension and I wanted to read to the end and see what happened.
The translation seemed a bit clunky at times, particularly the dialogue between characters, but I do like Lindqvist's writing and will probably read more of his work. If you're interested in a different take on zombies, I recommend this book.