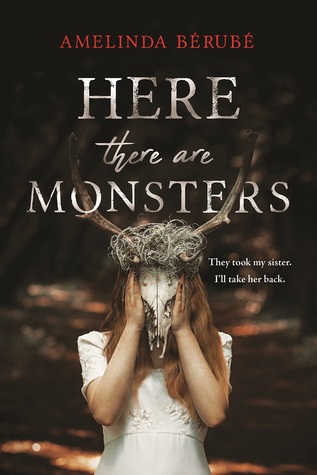 Here There Are Monsters
Source
Received from the publisher
Published by
Sourcebooks Fire
on August 6, 2019
Received from the publisher in exchange for an honest review. This does not affect my opinion of the book or the content of my review.
Rating:

The Blair Witch Project meets Imaginary Girls in this story of codependent sisterhood, the struggle to claim one's own space, and the power of secrets

Sixteen-year-old Skye is done playing the knight in shining armor for her insufferable younger sister, Deirdre. Moving across the country seems like the perfect chance to start over.

In their isolated new neighborhood, Skye manages to fit in, but Deirdre withdraws from everyone, becoming fixated on the swampy woods behind their house and building monstrous sculptures out of sticks and bones.

Then Deirdre disappears.

And when something awful comes scratching at Skye's window in the middle of the night, claiming she's the only one who can save Deirdre, Skye knows she will stop at nothing to bring her sister home.
I was very intrigued by this book. Sibling stories with a horror / fantasy / thriller element are always interesting to me, and the synopsis and cover of Here There Are Monsters definitely grabbed my attention.
I feel torn about this book because I really liked some elements of it (the mystery of what happened to Deirdre; the way the story moved back and forth in time; the creepiness of the woods and what was out there; Skye and Deirdre's complicated relationship), but I failed to connect with the characters or with the story emotionally, which prevented me from really getting invested in this one. I also felt sometimes like the pacing was uneven, so sometimes there seemed to be a lot happening at once and other times I felt like I was just waiting for something to happen.
Overall, I enjoyed this one, and while it wasn't full on horror, I think it's a good recommendation for a creepy YA read. I do feel like the comparison to Imaginary Girls is somewhat apt (at least, based on my recollection it is – it's definitely been a few years since I read that one), so if you liked that book and/or if you're intrigued by the synopsis or cover like I was, check this one out!