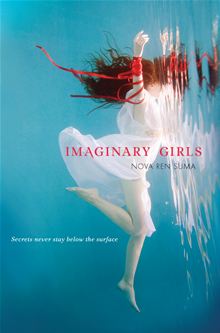 Imaginary Girls
By Nova Ren Suma Source
Library
Published by
Dutton Juvenile
on June 14, 2011
Rating:

Chloe's older sister, Ruby, is the girl everyone looks to and longs for, who can't be captured or caged. When a night with Ruby's friends goes horribly wrong and Chloe discovers the dead body of her classmate London Hayes left floating in the reservoir, Chloe is sent away from town and away from Ruby.

But Ruby will do anything to get her sister back, and when Chloe returns to town two years later, deadly surprises await. As Chloe flirts with the truth that Ruby has hidden deeply away, the fragile line between life and death is redrawn by the complex bonds of sisterhood.
I've been intrigued by this book for a while, and borrowed a copy from the library.
This was an interesting book about two sisters who don't seem to have anyone else. Chloe and Ruby are half-sisters, and live together in a small town. Their mother has mostly abandoned them, spending her time in the town pub. Ruby is wild, carefree, and loved by everyone in town – people seem to do whatever she wants, including her younger sister Chloe.
Ruby looks out for Chloe, and Chloe lives in Ruby's shadow. One night at the reservoir, during a party, Ruby convinces Chloe to swim from one end to the other and back. Partway across, Chloe discovers a small boat containing the dead body of another girl from the party, London. Suddenly Chloe is off to live with her father, away from Ruby.
Two years pass, and Ruby shows up unannounced to bring Chloe back to town. Chloe's father is completely against the idea, but Ruby is able to convince Chloe to sneak out and return with her. Naturally, Chloe does it, despite some lingering thoughts about where Ruby has been this whole time and why she didn't call or come visit sooner.
Chloe learns that Ruby is living in a house being built by her latest boyfriend, bordering the reservoir. And London – the girl Chloe found dead in the boat – is back, alive, and Chloe is the only one who seems to think that's strange.
I loved the surrealism of this book, and the way things got stranger and stranger the more I read. Is there any truth to Ruby's stories about a drowned town at the bottom of the reservoir? How is it that she's able to bend everyone in town to her will? How is London back from the dead? Why doesn't Ruby want Chloe to leave town or be able to see the reservoir from her bedroom window?
If you're looking for a book that lays out all the answers for you, this may not be for you. Slowly, Chloe finds the answers to some of these questions, but others are left unclear. Personally, I am okay with that – I feel like I was able to fill in the blanks based on my reading of the story, and I think the ending fits with the rest of the story and the world the author created.
I liked Chloe. I understood her dependence on Ruby – she had, after all, practically raised Chloe and looked out for her their whole lives – and, being a younger sister myself,  I remembered what it was like to have an older sister to look up to and to want to please. However, as the story progressed, I wanted Chloe to think for herself, to make her own decisions and do things that she wanted to do, not just the things Ruby told her to do. Of course, if the girls had a healthy relationship, that would probably happen as Chloe got older. They don't have a healthy relationship at all, though. Despite the fact that everyone in town is practically falling all over themselves to do whatever Ruby wants, she and Chloe ultimately only want each other. For example, as soon as Chloe is back in town, Ruby practically abandons Jonah, the boyfriend she's living with in the house he's building.
I completely disliked Ruby at first. I couldn't figure out why people did what she wanted when she never seemed to appreciate it, never seemed to care about anyone else. Towards the end of the story, though, I changed my mind. I saw the lengths Ruby would go to for her sister, the only person in the world she seemed to love.
I loved the writing in this book. It had a dreamy quality, and I didn't want to put this book down.  I definitely recommend this, and I'm looking forward to reading Nova Ren Suma's next book, 17 & Gone, out later this year.