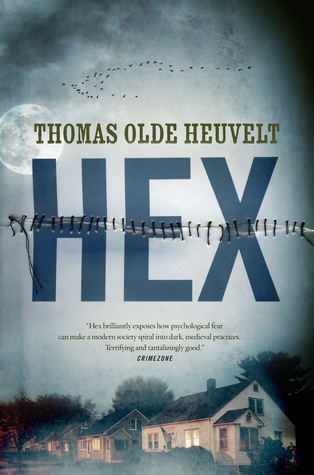 Hex
By Thomas Olde Heuvelt Source
Purchased
Published by
Tor
on April 26, 2016
Rating:

Whoever is born here, is doomed to stay 'til death. Whoever settles, never leaves.

Welcome to Black Spring, the seemingly picturesque Hudson Valley town haunted by the Black Rock Witch, a 17th century woman whose eyes and mouth are sewn shut. Muzzled, she walks the streets and enters your homes at will. She stands next to your bed for nights on end. Everybody knows that her eyes may never be opened.

The elders of Black Spring have virtually quarantined the town by using high-tech surveillance to prevent their curse from spreading. Frustrated with being kept in lockdown, the town's teenagers decide to break their strict regulations and go viral with the haunting, but in so doing send the town spiraling into the dark, medieval practices of the past.
This book had been on my TBR for ages. I kept hearing that it was super scary, and when spooky season arrived, I was eager to read it!
The premise is definitely creepy and I loved it: a witch who appears around town, sometimes in your home – sometimes in your bedroom – with eyes and lips sewn shut. Don't listen to her whispers and don't open her eyes. The whole town is basically trapped, because if they go too far from town for too long, they'll be driven to suicide.
I enjoyed this book, but honestly I never found it scary. The more I read, the more I actually felt bad for Katherine, the Black Rock Witch. And as the town began to spiral into madness and self destruction, I found my interest waning. I did like the ending, and there was a note from the author at the end of my copy saying that when this book was translated from its original Dutch, he rewrote the ending, so now I am curious to look up how the Dutch version ended.
Even if I didn't love this one, it had some fun creepy moments and was a good pick for spooky season.