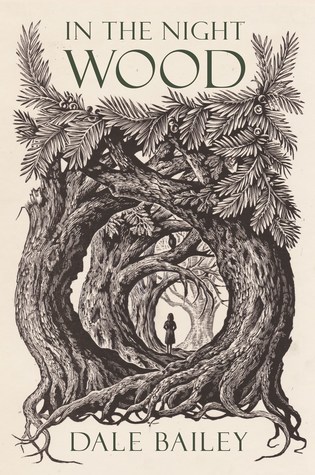 In The Night Wood
By Dale Bailey Source
Library
Published by
John Joseph Adams/Houghton Mifflin Harcourt
on October 9, 2018
Rating:

American Charles Hayden came to England to forget the past.

Failed father, failed husband, and failed scholar, Charles hopes to put his life back together with a biography of Caedmon Hollow, the long-dead author of a legendary Victorian children's book, In the Night Wood. But soon after settling into Hollow's remote Yorkshire home, Charles learns that the past isn't dead.

In the neighboring village, Charles meets a woman he might have loved, a child who could have been his own lost daughter, and the ghost of a self he thought he'd put behind him.

And in the primeval forest surrounding Caedmon Hollow's ancestral home, an ancient power is stirring. The horned figure of a long-forgotten king haunts Charles Hayden's dreams. And every morning the fringe of darkling trees presses closer.

Soon enough, Charles will venture into the night wood.

Soon enough he'll learn that the darkness under the trees is but a shadow of the darkness that waits inside us all.
I was drawn to this book because of that cover illustration, but reading the description made me realize that it was right up my alley!
I enjoyed this book. I was torn between rating it a 3.5 or a 4, because I thought the writing was very atmospheric and lovely, and the story pulled me in right away. But for a short book, it often felt like not much was happening. The story within the story (Caedmon Hollow's In the Night Wood) was, to me, the most interesting part.
I wanted to love this one more than I did, but it was a good pick for cold November days curled up on the couch. Recommended.