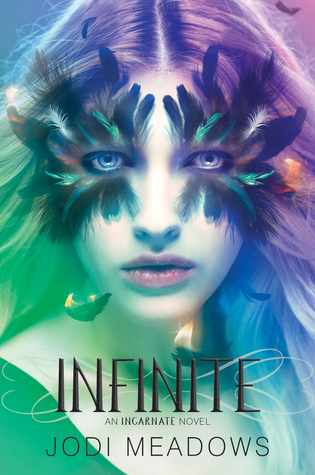 Infinite
By Jodi Meadows Series:
Newsoul #3
Source
Purchased
Published by
Katherine Tegen Books
on January 28, 2014
Rating:

Cover image and summary from Goodreads:

DESTRUCTION
The Year of Souls begins with an earthquake—an alarming rumble from deep within the earth—and it's only the first of greater dangers to come. The Range caldera is preparing to erupt. Ana knows that as Soul Night approaches, everything near Heart will be at risk.

FLIGHT
Ana's exile is frightening, but it may also be fortuitous, especially if she can convince her friends to flee Heart and Range with her. They'll go north, seeking answers and allies to stop Janan's ascension. And with any luck, the newsouls will be safe from harm's reach.

CHOICE
The oldsouls might have forgotten the choice they made to give themselves limitless lifetimes, but Ana knows the true cost of reincarnation. What she doesn't know is whether she'll have the chance to finish this one sweet life with Sam, especially if she returns to Heart to stop Janan once and for all.

With gorgeous romance and thrilling action, the final book in the Incarnate trilogy offers a brilliant conclusion to the compelling questions of this fascinating world, where one new girl is the key to the lives of millions.
This is the third and final book in Jodi Meadows' Incarnate series, after Incarnate and Asunder. We read the final two for our book club's one year anniversary, and had the pleasure of Skype chatting again with the author! It was very cool.
I read Asunder right before I read this, so events of both books have sort of blurred together. The main thing about this book that I loved was the journey that Ana, Sam, Stef, and Whit went on. They encountered rocs, centaurs, and dragons – I'd been waiting to read something like that since the first book! It felt very 'fantasy', and it was even mentioned at book club that it had a very Lord of the Rings feel to it, which I really enjoyed.
Being the final book in the series, the stakes were very high. I wasn't sure what would happen to people if Janan was successful in his attempt at ascension, and with Deborl and his crew attacking people it certainly wasn't safe in Heart. Ana and Sam were at odds throughout this book as Sam discovered that Ana had kept things from him, but it was clear throughout that they loved each other. Further, with so much uncertainty about what would happen to the souls of those who died while Janan was trying to ascend, I was incredibly sad when characters died, since it was unclear if they'd come back.
One of my favourite things about this book, and Asunder, was learning more about sylph and their desire for redemption. I'd love to go back through Incarnate, knowing what I know now, and re-read certain scenes.
Overall, this was an excellent conclusion to a great series. It's inventive, unique, well-written, and I love the importance of music to the story.
I for one can't wait to read what Jodi Meadows writes next!