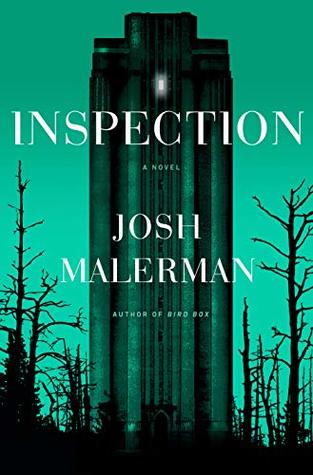 Inspection
By Josh Malerman Source
Library
Published by
Del Ray
on March 19, 2019
Rating:

J is a student at a school deep in a forest far away from the rest of the world.

J is one of only twenty-six students, all of whom think of the school's enigmatic founder as their father. J's peers are the only family he has ever had. The students are being trained to be prodigies of art, science, and athletics, and their life at the school is all they know—and all they are allowed to know.

But J suspects that there is something out there, beyond the pines, that the founder does not want him to see, and he's beginning to ask questions. What is the real purpose of this place? Why can the students never leave? And what secrets is their father hiding from them?

Meanwhile, on the other side of the forest, in a school very much like J's, a girl named K is asking the same questions. J has never seen a girl, and K has never seen a boy. As K and J work to investigate the secrets of their two strange schools, they come to discover something even more mysterious: each other.
I wasn't really sure what this book was about, but given my enjoyment of Bird Box and Unbury Carol, I was looking forwarding to reading more by Josh Malerman, so I grabbed this one from the library.
This was a strange book with a semi-intriguing premise. When I could turn my brain off, I could let myself read and enjoy it. But any time I felt myself starting to nitpick and ask questions of the book, I sort of didn't like it, and thought it was unintentionally silly.
View Spoiler »
One of the things that really bugged me was its heteronormativity. I also kept wondering where this seemingly infinite money to run this experiment came from. « Hide Spoiler
The story also dragged and felt too long, and when it got to K's story it felt too repetitive. Overall, I'm so-so on this one.