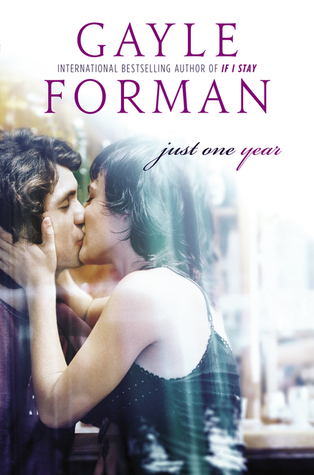 Just One Year
By Gayle Forman Series:
Just One Day #2
Source
Library
Published by
Dutton Children's
on October 10, 2013
Rating:

Cover image and summary from Goodreads:

When he opens his eyes, Willem doesn't know where in the world he is—Prague or Dubrovnik or back in Amsterdam. All he knows is that he is once again alone, and that he needs to find a girl named Lulu. They shared one magical day in Paris, and something about that day—that girl—makes Willem wonder if they aren't fated to be together. He travels all over the world, from Mexico to India, hoping to reconnect with her. But as months go by and Lulu remains elusive, Willem starts to question if the hand of fate is as strong as he'd thought. . . .

The romantic, emotional companion to Just One Day, this is a story of the choices we make and the accidents that happen—and the happiness we can find when the two intersect.
Oh my gosh I was so excited to read this book! I loved Just One Day so so so much, and when I learned there would be a companion novel told from Willem's perspective, I knew I had to get my hands on it.
This story picks up shortly after events in Just One Day, and Willem is suffering from a concussion and some memory problems. He remembers that there was a girl – Lulu – and that she was waiting for him, but he realizes he doesn't know her real name or how to contact her. Knowing what Allyson was going through in the events of Just One Day, I was feeling so anxious! I knew no matter what Willem did to try and find Allyson, he wasn't going to.
I was pulled into Willem's story, learning about his family and his nomadic traveler lifestyle over the course of the year. I was so curious about his life. Why did he come across as such a playboy? What in his life was he running from?
Willem seemed to think a lot of life's events and occurrences were fated, rather than the product of will and choice. I could understand where he was coming from, but personally that isn't my belief system. While there may be some happy accidents or chances in life, I don't think letting yourself go along without a plan or goal is any way to live. The more I learned about Willem's family, though, the more I realized why he might think that way. I really enjoyed reading about Kate, a girl he met in Mexico, challenging these ideas, which she continued to do throughout the book.
Knowing both sides of the story – from both Allyson's and Willem's perspectives – provides a fascinating look into the lives of two people who seemed so different initially, but both ended up learning so much about themselves while looking for each other. And although they spend this book mostly apart, I knew that Allyson was out there thinking about and looking for Willem, which made me smile.
I'm so happy to have read Willem's side of things because now I feel like the story is complete. I've decided that the ending is happy, optimistic, and that Willem and Allyson are together. I love these books and definitely recommend them. I would love to own them (I borrowed these from the library) and reread them, one right after the other.
Also, just like Just One Day, this book has awakened my desire to travel! So be warned that if you have the desire to travel and wander, this book will make you want to get out there and see the world!