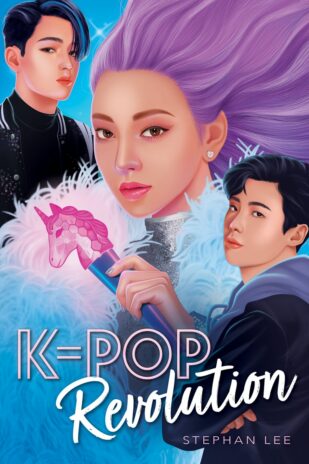 K-Pop Revolution
By Stephan Lee Series:
K-Pop Confidential #2
Source
Purchased
Published by
Point
on April 5, 2022
Rating:

She thought that debuting in a K-Pop band was the finish line, but it was only the beginning. Because now it's not only Candace's company judging her—it's the entire world. How will she find the courage to stand by her beliefs, even when powerful forces are trying to shame and silence her...

In the sequel to K-Pop Confidential, Candace is a Rookie idol. Her life is suddenly filled with the fans, cameras, and glamor of stardom: She and her boyfriend, YoungBae, are a K-Pop power couple; she's a walking icon at Brandt Foreign School; and her new girl group, known simply as THE GIRLS, is poised to break records across the industry. With her status as the industry's K-Pop Warrior, she has all the clout at her disposal to make waves. Right?

Her label, S.A.Y., promises to help make the sweeping changes for the industry to become a more humane and compassionate place for artists. But what will happen when the road to a record-breaking debut isn't as smooth as they'd planned? When a rival girl group emerges to steal the spotlight, carrying the message of change better than Candace ever could, she'll have to decide what it'll cost her and her bandmates to stand up for their beliefs. And as the world turns against her, with online bullies scrutinizing her every word, there's only so much that one person can take.

From the top of the world to the brink of disaster, Candace is going to have to figure out why the world is out to get her. And she's not going to be able to do it alone.

How far does one girl need to be pushed to start a K-Pop Revolution?
I loved book one in this duology, K-Pop Confidential, when I read it in 2021. It was one of my favourite books I read that year.
I wasn't sure that this sequel could top the drama of K-Pop Confidential, but it did! The drama and intrigue didn't let up just because Candace got a spot in the girl group. If anything, it all ramped up!
I loved getting a behind the scenes look at the work that went into Candace's group debuting. The work and the schedule was grueling, and the amount of debt that the girls were into to their music label was mind-boggling. I could see how some of the girls felt trapped in such a system and that they couldn't go against the label or try to stand up for themselves.
I really enjoyed Candace's struggle with her identity as an idol, and as a k-pop warrior. If she had power in the industry, how should she use it? And did she actually have any real power?
This was such a fun, dramatic read that once I got really into it, I couldn't put it down! This was the end of the duology, but I would totally read more of Candace's story in the future!