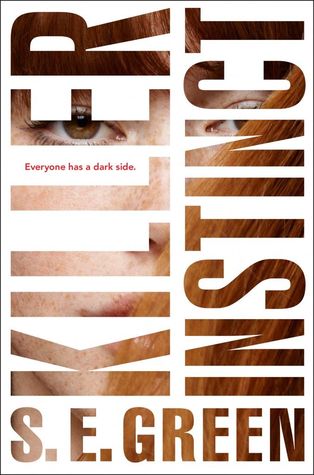 Killer Instinct
By S. E. Green Series:
Killer Instinct #1
Source
Received from the publisher via Edelweiss
Published by
Simon Pulse
on May 6, 2014
Received from the publisher via Edelweiss in exchange for an honest review. This does not affect my opinion of the book or the content of my review.
Rating:

Cover image and summary from Goodreads:

"A zippy, gripping psychological drama." ~Kirkus Reviews

She's not evil, but she has certain... urges.

Lane is a typical teenager. Loving family. Good grades. Afterschool job at the local animal hospital. Martial arts enthusiast. But her secret obsession is studying serial killers. She understands them, knows what makes them tick.

Why?

Because she might be one herself.

Lane channels her dark impulses by hunting criminals—delivering justice when the law fails. The vigilantism stops shy of murder. But with each visceral rush the line of self-control blurs.
And then a young preschool teacher goes missing. Only to return... in parts.
When Lane excitedly gets involved in the hunt for "the Decapitator," the vicious serial murderer that has come to her hometown, she gets dangerously caught up in a web of lies about her birth dad and her own dark past. And once the Decapitator contacts Lane directly, Lane knows she is no longer invisible or safe. Now she needs to use her unique talents to find the true killer's identity before she—or someone she loves—becomes the next victim...
I was really intrigued by the premise. I loved the TV show Dexter (for the most part), and this book definitely had the same vibe. I think if you liked the show, you will find something similar here.
I really liked Lane. She was so different from a lot of characters that I've read about, and because of that, I found the way she reacted to things was really interesting! If you have ever watched Dexter, you'll understand what I mean when I say that Lane reminded me of the show's titular character: she didn't quite seem to feel emotions the same way as everyone else, and had to fake feeling things at times. She was very intelligent, didn't have many friends, and wasn't interested in the things that other teens her age were interested in, like dating.
I was enjoying the book right up until the end and the big reveal. While I was able to suspend any sense of disbelief throughout the book, in the end when all was revealed, I had some doubts about the plausibility. The end also felt way too rushed for me, and I was incredibly surprised by how much I disliked the resolution.
The rest of the book to that point had been a fun, interesting read for me, and one that I would recommend. I don't think it will be everyone's cup of tea, and I'd love to talk about the end with others who've read this one!