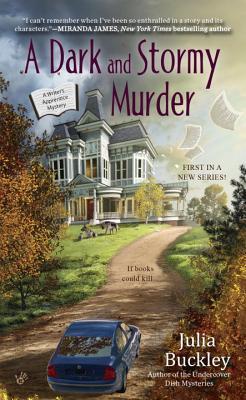 A Dark and Stormy Murder
By Julia Buckley Series:
A Writer's Apprentice Mystery #1
Source
Purchased
Published by
Berkley
on July 5, 2016
Rating:

Lena London's literary dreams are coming true—as long as she can avoid any real-life villains...

Camilla Graham's bestselling suspense novels inspired Lena London to become a writer, so when she lands a job as Camilla's new assistant, she can't believe her luck. Not only will she help her idol craft an enchanting new mystery, she'll get to live rent-free in Camilla's gorgeous Victorian home in the quaint town of Blue Lake, Indiana.

But Lena's fortune soon changes for the worse. First, she lands in the center of small town gossip for befriending the local recluse. Then, she stumbles across one thing that a Camilla Graham novel is never without—a dead body, found on her new boss's lakefront property.

Now Lena must take a page out of one of Camilla's books to hunt down clues in a real crime that seems to be connected to the novelist's mysterious estate—before the killer writes them both out of the story for good...
I'm just going to get right to the point: I loved this book. I inhaled this book. I thought this was so much fun and I had such a hard time putting it down.
Lena London has just finished her Masters degree, had no job prospects, and just came out of a dismal relationship when a friend contacts her with an amazing opportunity. Lena's friend has discovered that she's neighbours with Lena's idol, mystery author Camilla Graham. When Camilla mentions that she's looking for a writing assistant, Lena jumps at the opportunity to not only meet her idol, but to work for her as well.
Lena moves from Chicago to Blue Lake, Indiana, which is made up of cottages and a small town surrounding a beautiful lake. Lena moves in with Camilla into her large, Victorian house, and together they start their writing partnership. However, not long into their relationship, Lena finds a body on the beach below Camilla's house and the two mystery writers work together to solve a real-life murder!
I wonder if part of the reason that I loved the book is that I feel like I recently visited a few towns that Blue Lake could have been based on. I spent a weekend last month driving through cottage country, and when I picked up this book it was so easy to imagine the setting. Even though I am not a small-town girl (which I discovered on this trip), the setting of this book seemed so quaint and charming.
I really like the relationship between Lena and Camilla. When they meet in the book, Camilla has already written dozens of books but finds that she is slowing down. She needs help from Lena to read her writing and to make sure that it makes sense and doesn't have any holes. Lena jumps at the chance, and throughout the book they develop a good writing relationship. And they live in an awesome mansion together!
I think what I really love about this book is that even though it's so out there (in that, how likely is it that your favourite author ever will need a ghost writer and then hire you as one and let you live with them) it was just so so so so much fun. I threw caution to the wind and just loved it.
I think the only downside was that I wasn't super into the love interest. Sam is Camilla's neighbour and is an outcast around town because he has been accused of murdering his wife (who has gone missing — no body has been found). Lena decides that Sam is innocent and it seems that the next book deals with trying to prove his innocence. I get that Lena feels she has a connection with Sam, but I personally would be wary to start dating a guy whose wife is missing and presumed murdered. But that's just me.
Overall, this book was fun. I love the premise. And I love the relationship between Lena and Camilla. I highly recommend this book.