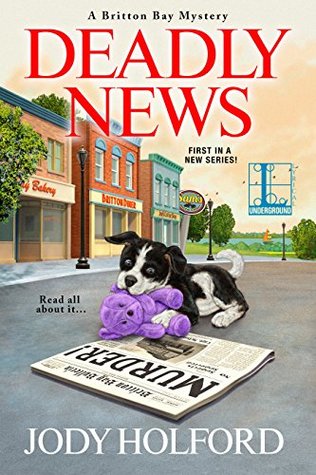 Deadly News
By Jody Holford Series:
A Britton Bay Mystery #1
Source
Received from the publisher
Published by
Lyrical Underground
on October 30, 2018
Received from the publisher in exchange for an honest review. This does not affect my opinion of the book or the content of my review.
Rating:

As an experienced journalist, Molly is eager to bring the struggling Britton Bay Bulletin up to speed. But when she pushes Vernon, one of her less welcoming reporters, to dig a little deeper into the story of a prominent local family, the man ends up dead. The fact that he wasn't well-liked makes finding the killer extra complicated. The lists of suspects range from his ex-wife to his own son to Molly's boss, who has a secret of his own. But when Molly's attempts to sleuth out the truth result in her receiving frightening threats, the trouble is just beginning . . .

The one bright spot is Molly's newfound flirtation with Sam Alderich. The sexy mechanic is used to taking things apart and piecing them back together, and between the two of them they just might be able to solve this deadly puzzle—if Molly can survive peaceful small-town life long enough . . .
"Deadly News" is a new series that follows Molly Owens as she moves from LA to the small town of Britton Bay in Oregon. Following a bad breakup, Molly jumps at the chance to become editor of a local struggling paper in the quaint seaside town. As she starts her new position she discovers that all of her reporters are not as excited about her new venture as she is.
Molly quickly sets her reporters up with new stories in order to drum up interest in the fledging paper, but soon after assigning her prickly reporter, Vernon, with a piece on a local, powerful family, he is found murdered in his own home. Feeling responsible for his death, Molly works with her new boyfriend, Sam, in order to investigate and uncover the responsible party.
I have to say that this was a sweet story. I always enjoy books about people starting over, just because I like the optimism of getting another chance at creating a life that makes you happy. I also think there's something romantic about packing up and moving to a new place all on your own (though I think I would be too terrified to do it in real life!).
I like that Molly was (generally) welcomed by the people in town and the owner of the newspaper. The town sounds like a sweet place to live, with beautiful views of the coast. I also liked the idea of trying to infuse fresh ideas into a small, local paper (i.e. getting it online, social media engagement).
There weren't any downsides to the story, but I did think Molly and her romantic partner, Sam, teamed up pretty quickly (especially since she spends so much time talking about how she is over men), but then again, sometimes romances are a bit of a whirlwind. And he seems like a nice character, so I didn't really mind.
Molly did get told to butt out a few times by the local police (which, of course, she didn't —- she even goes so far as to steal evidence!). I hope that in the next book she has a better relationship with the police. I always feel weird when cozy characters disobey police orders, given that it can create difficult consequences in real life.
Overall, this was a sweet book that was enjoyable to read. I look forward to the next one.