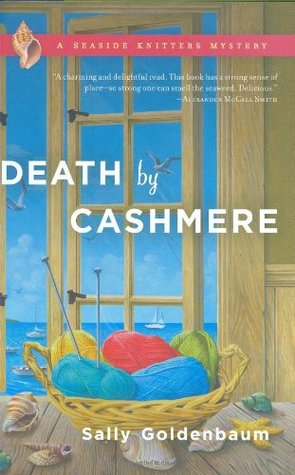 Death By Cashmere
By Sally Goldenbaum Series:
Seaside Knitters Society Mystery #1
Source
Purchased
Published by
NAL Hardcover
on August 5, 2008
Rating:

This brand-new mystery series spins a yarn about knitters and murder in a quaint seaside village.
Not long after Isabel, Izzy, Chambers opens up a knitting shop in the sleepy fishing town of Sea Harbor, Massachusetts, a diverse group of women begins congregating each week to form the Seaside Knitters.
Izzy raises some eyebrows when she rents the apartment above her shop to Angie Archer, whose reputation for loose behavior and a quick temper has made her unpopular with many locals. But could any of them have wanted her dead? Angie's body is discovered drowned in the harbor, her long red hair tangled like seaweed in a lobster trap.
An official investigation rules the death an accident. There are speculations of too many whiskey sours, a slippery wharf, a dark night? But Izzy and the Seaside Knitters smell something fishy. When several strange incidents occur above the shop, the women decide to take matters into their own hands. But before long, their small-town sense of security is frayed, and the threat of more violence hangs over this tightly knit community.
So this is a book that I had started a few times, but never really got past the first chapter. I'm not sure why that is, as I really enjoyed the book.
The book is centred around the Seaside Knitters, a group of women who visit Izzy Chambers' knitting shop and share food, wine, and good company while working on their individual projects.
Izzy rents the apartment above her shop to Angie Archer, who is found dead in the harbour one morning. When it is discovered that Angie was poisoned, rather than the victim of an accidental drowning, Izzy, her aunt Nell, their elderly friend Birdie, and local lobsterwoman Cass band together to uncover who is responsible for this killing.
I will admit that I read a few reviews on Goodreads before reading this book, and I realize why I didn't finish the book on the first few tries. The book takes its time — it is a slow-going look at small-town living. The book details many, many characters with layered relationships and that can make the book feel like little is happening story-wise. But, I read quite a bit of this book while I was up late with a sleeping baby (or rather, trying to get him to sleep) so I found the slower pace to be really refreshing. It felt like you were really learning about a community of people — and I imagine this will be really helpful and important as the rest of the book series develops.
I will admit that I was thrown that the main character was Aunt Nell, not Izzy. So much of the blurb and setup of the book is about Izzy, so I think it was a bit of a jolt to realize it wasn't about her. She shines quite a bit as a secondary character though, and Nell seems so much more quiet. So I wonder why the choice was made to have her as the narrator.
I LOVE that it was set in a yarn store. The descriptions of yarn were so nice and poetic. And I loved how Nell would notice another person's knitted garment and ponder how the person made it (I may only be really proficient in knitting socks and a few shawls, but I still do the same when I see something really beautiful. And I always want to touch knitted garments — this is something else that came up in the book and made me smile. I hate buying yarn online because you can't touch it). And the book even had a pattern in the back! So many cozies have recipes or other things, but I loved seeing a knitting pattern.
I was able to figure out who the killer was about three quarters of the way through the book. I don't think it was anything too obvious, but one character View Spoiler » reminded me of Margo Martindale's character from "Justified", who also killed people, so it made me very suspicious of her. « Hide Spoiler Even with that suspicion I didn't know why it happened, and I was surprised by the reason/motivation.
While it took me a few tries to get into the book, this book was well worth the wait. I look forward to starting the next book soon, and am even more excited to give the knitting pattern a try!