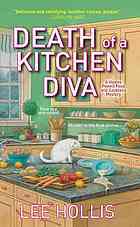 Death of a Kitchen Diva
By Lee Hollis Series:
Hayley Powell Food and Cocktails Mystery #1
Source
Purchased
Published by
Kensington Books
on March 1, 2012
Rating:

Welcome to Bar Harbor, Maine, one of New England's most idyllic coastal towns. But as new food writer Hayley Powell is about to find out, the occasional murder can take a bite out of seaside bliss. . .

Single mom Hayley Powell is barely keeping her leaking roof over her head when her boss at the Island Times gives her a new assignment--taking over the paper's food column. Hayley's not sure she has the chops--she's an office manager, not a writer, even if her friends clamor for her mouth-watering potluck dishes. But the extra income is tempting, and Hayley's chatty first column is suddenly on everyone's menu--with one exception.

When rival food writer Karen Appelbaum is found face-down dead in a bowl of Hayley's creamy clam chowder, all signs point to Hayley. To clear her name, she'll have to enlist some help, including her BFFs, a perpetually pregnant lobster woman, and a glamorous real estate agent. As she whips up a list of suspects, Hayley discovers a juicy secret about the victim--and finds herself in a dangerous mix with a cold-blooded killer.
I've recently found myself rereading some of my favourite books. I find myself holding my sleeping baby for hours lately, only for him to wake if I try to put him in the crib. So, most nights I am holding my little guy in my arms while reading a good book. If it weren't for the build up of sleep deprivation it would be pretty awesome.

During these times I find I want to reread some of my favourite books. I have always been a person who could read the same book over and over and over, which actually makes it hard for me to branch out and read new books. Why read new books when I already have so many good ones that I can just keep rereading? I will say that writing these blog posts has been good for getting me to read new books.

But now I want to get back to some of the old books I love. I have a habit of rereading an entire series whenever a new book comes out, and I'll admit that's what inspired me to review this book. I reviewed Death of a Cookbook Author earlier in the year, and it made me want to reread the series. Again. So on my holiday break I decided to do just that.

Hayley Powell is a single mom of two teenagers and one shi tzu with a leaking roof and a love for Lifetime movies and good food. She works at the Island Times newspaper in her small town of Bar Harbour, Maine and is surprised to be given the food and drink column by her boss. Her first column is a great success until she runs into the rival food and drink columnist from the other newspaper in Bar Harbour. Unfortunately the columnist winds up dead after a public fight with Hayley, and she is very quickly placed under suspicion of her murder.

Hayley must work together with her brother Randy, her best friends Mona and Liddy, and even her kids in order to uncover who the real killer is.

I find this series to be an absolute joy to read. It is fun, lighthearted, silly, and a perfect example of what a cozy mystery should be. I find Hayley to be really endearing — she seems like the type of person I would love to be friends with, and I love the relationship she has with her brother and friends.

I will definitely say that this is on the less serious end of the cozy spectrum, in that Hayley and her friends make a lot of false accusations, and get caught breaking into a lot of places, but nothing bad happens to them.

One thing I love about this series is the development of the characters — having just read the 10th book it's really nice to go back and see where the characters were at the very beginning. It makes me excited to follow the series again. 🙂

Overall, this is a fun, light-hearted book that is a good introduction to the cozy genre. Definitely recommend it to others.