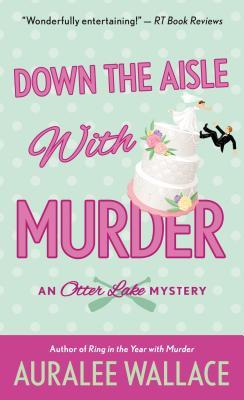 Down the Aisle with Murder
By Auralee Wallace Series:
An Otter Lake Mystery #5
Source
Purchased
Published by
St. Martin's Paperbacks
on May 1, 2018
Rating:

First comes love. Then comes. . .murder?

Some wedding stories are so bizarre that you can't even make them up. Take Erica Bloom's latest case of an Otter Lake bride whose BFF is MIA at the time she's supposed to perform her duties as maid of honor. ..only to be found DOA. Erica and her security team―minus her beloved Grady, who's on vacation, trying to stay out of town business and has a no-nonsense sheriff covering for him―have followed every possible lead to find out what really happened to the young woman. Is her death the result of a bachelorette party gone wildly wrong? Or did someone with cold feet snap―and turn into a cold-blooded killer? These are the questions that must be answered for the nuptials, which at the eleventh hour receive a dramatic makeover, to go off without a hitch…before 'til death do us part.
As I've said in a previous review of an Otter Lake book, I've really enjoyed the story arc of Candace's character. She started off as a sweet, but villainous character (which is what happens when you are suspected of murder), who then became the rival love interest for Sheriff Grady, and then in this book becomes a friend of Erica's.
Candace is getting married to the former prison penpal that we met in the previous book. However, not everyone is happy about the wedding — her fiancé's family hates her, and her own family disapproves of him. More importantly, Candace's hard-partying maid of honour goes missing and is discovered dead! Erica and Freddie find themselves having to juggle both wedding planning and murder investigations in this book.
As usual, I love the dynamic between Freddie and Erica. However, I was so confused and sad as to why Freddie and Erica weren't getting along in this book! Freddie can always be a little touchy, but in this book he was just off the charts. But it all made sense when Erica caught him at her mother's "Why Am I Still Single?" retreat and I think they made some very big points in this book when they talked about how they insulated each other from forging romantic relationships with other. Love the depth of their friendship! And I love that Freddie gets a boyfriend in this book!
I also was confused by Grady's vacation! He chose to take a vacation in the middle of a murder investigation. And I couldn't stop laughing at all the ridiculous activities that Erica kept catching him doing — the early morning yoga, the knitting, even hanging out one-on-one with Freddie. I love that he was branching out with his normal activities and kept Erica guessing about what he was doing.
I think this was one of the more enjoyable books in terms of the relationships between the characters — it really added depth to all of them. I was really happy to see where everyone ended up in the end.
This is a definite recommend and is a very character-driven book in a great mystery series.