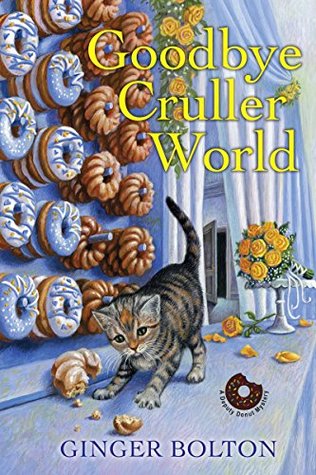 Goodbye Cruller World
By Ginger Bolton Series:
Deputy Donut Mystery #2
Source
Received from the publisher
Published by
Kensington Publishing Corporation
on August 28, 2018
Rating:

Normally, Emily's eyes tend to glaze over when prospective brides go on about their wedding plans. But when the owner of the clothing shop, Dressed to Kill, asks Emily to design a donut wall for her reception, she's immediately sweet on the idea. With the help of her father-in-law and business partner--the former police chief of Fallingbrook--she hangs the treats from dowels on the wall so guests can help themselves.

But that night, when the groom ends up on the floor with signs of poisoning, Emily suspects someone has tampered with her treats. When the groom dies, there's no way to sugarcoat it: she's got a murder on her hands. Despite a list of suspects as long as the guest list, Emily vows to find out who created the killer confection to save her shop's reputation and keep the bride out of handcuffs. She'll have to move fast . . . before the poisoner takes a powder.
This is the second book in the Deputy Donut mystery series, and while I think there were some things that were improved in this book compared to the first, overall I feel the book failed to grip me.
Emily Westhill owns a donut and coffee shop in Fallingbrook, Wisconsin with the father of her deceased husband. The team is hired to provide some of their delicious donuts at the wedding of the owner of their neighbouring business. It turns out that the bride is marrying a bit of a butthead. At the wedding the groom becomes suddenly ill and later succumbs to his injuries. It seems that someone poisoned the groom by dipping his crullers in arsenic! Concerned about saving the reputation of her shop, and helping her friend, Emily tries to track down the killer!
I will say flat out that this series makes me hungry. It is a wonder that I did not eat a dozen donuts whenever I read the book. The author describes so many delicious flavour combinations — I wanted to try each one of them!
I think this book improved on a few things that had bothered me in the last one — in the first book there were some odd and awkward characters, as well as a few scenes that seemed clunky. While I found there was one scene that was awkward (Emily telling her life story to the ex-boyfriend of the bride while dancing at the wedding), I thought this was a vastly improved book in that sense. I also liked that there was less discussion of how Emily and her girlfriends acted in high school and they were just free to be themselves (and be adults) in this book.
I was surprised that this book did not include some of the characters from the first. In the first book Emily teamed up with her elderly neighbour to investigate the murder of a friend, and I liked their friendship — it was fun and quirky and I liked how they both cooked delicious dinners for each other. But the neighbour seems to have moved to another city. Instead, Emily teams up with her father-in-law for much of her sleuthing. This makes sense given that he is the former chief-of-police, and now I am left wondering if he should have been included more in the first book. Either way, they have a nice relationship and I liked them working together.
The villain in this book (and the first) is the external detective brought in to oversee the murder investigation. And while it's not unheard of for a non-local cop to be seen as the bad guy in cozies, I sometimes feel like she is characterized too much as a villain — she is just painted as so incompetent and unsympathetic that it almost makes me dislike the way the character is structured, rather than the character herself.
I liked the mystery of the book — who dipped donuts in arsenic and fed them to the groom? Where did the arsenic come from? I wasn't able to solve the mystery until the killer was revealed, so this book definitely kept me guessing. But at the same time I never felt like I couldn't put the book down. It was a nice book to read, and I read it relatively quickly, but it was easy to pause.
Things seem to be moving slow and steady with Emily and Brent — her husband's former partner. In the first book they rekindle their friendship, and the second book has them falling into a nice friendship with a regular routine. I wish there had been a bit more focus on their relationship in the book, but given Emily's backstory I understand why that is pretty slow-moving.
Overall this book was an improvement on the previous book. The story overall wasn't as exciting as I would have liked, but I like both Emily and her potential romantic partner Brent enough to keep reading the series to see where it goes.