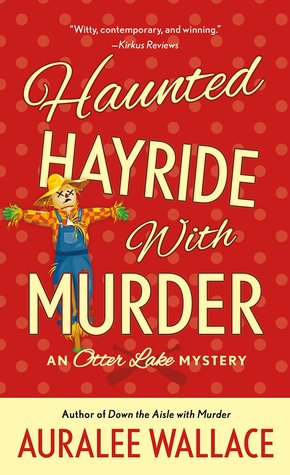 Haunted Hayride with Murder
By Auralee Wallace Series:
An Otter Lake Mystery #6
Source
Received from the publisher
Published by
St. Martin's Press
on September 25, 2018
Received from the publisher in exchange for an honest review. This does not affect my opinion of the book or the content of my review.
Rating:

Erica Bloom is loving everything about autumn this yearin Otter Lake, New Hampshire: changing leaves, apple cider, cozy sweaters... and the warm and fuzzy relationship that's heating up between her and Sheriff Grady Forrester. But when some local teens out to find some Halloween thrills come across a boot with a dead man's foot bones still inside it, a chilling new reality comes into play. Everyone in Otter Lake knows about the age-old witch who haunts the apple orchard bordering the White Mountains. So when the bones turn out to belong to a long-gone local with a scandalous connection to the orchard, stories of the spooky figure roaming the forests at night once again rise up from the past. Now it's up to Erica and the rest of the Otter Lake Security team to expose the identity of the killer. Will they be able to lay this ghost to rest...or will this witch hunt be their last?
Oh my god, how have I missed out on this series up until now?
Erica Bloom and her best friend Freddie run a security company and have been hired to guard the woods during the Halloween season at the local haunted hayride. While breaking up a party of teenagers, Erica and Freddie encounter a body. The only problem is, everyone thinks the body is the victim of the Apple Witch, a local legend who murders men. As Erica and Freddie are tasked with continuing to guard the woods late at night, they continue to investigate the local legend as well as the murder.
As I have said in other reviews, I am a scaredy cat. A big one. I will admit that the frequent setting of a dark woods, combined with a potential witch did mean I was a bit slower in reading this book. It got creepy! But, I powered through and am happy I did it.
I loved how Freddie was terrified of the woods and the Apple Witch (just as I was!) and how Erica kept trying to confront the witch by yelling that she was a "feminist scientist!" And didn't believe in witches. I couldn't stop laughing at her declaration.
Freddie and Erica have a great friendship. I highly identified with Freddie's fear of everything, but loved how much Erica kicked butt. I also liked how Erica tried really hard to make sure her investigation didn't break any laws, so as to not make her on-off relationship with the local chief of police any more difficult.
This was a fun (and a little scary!) book following a great team of friends as they investigate murder and creepy witch stories. I'm happy to have discovered this series now (even if it is a little late in the game) and can't wait to start at the beginning!