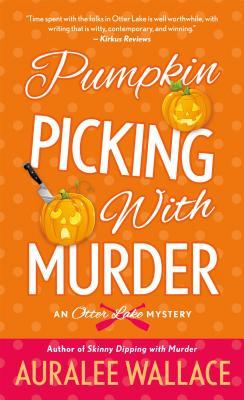 Pumpkin Picking with Murder
By Auralee Wallace Series:
An Otter Lake Mystery #2
Source
Purchased
Published by
St. Martin's Paperbacks
on August 30, 2016
Rating:

When murder strikes in the Tunnel of Love, Erica Bloom has to rock the boat to catch a killer…

For a small town like Otter Lake, New Hampshire, the annual Fall Festival is a big deal: a Ferris wheel, corn maze, caramel apples and pumpkin pies—even a Tunnel of Love. Back in her hometown, Erica Bloom is trying to enjoy herself, which includes getting better acquainted with Sheriff Grady Forrester. But when a swan boat sails out of the heart-shaped exit of the tunnel with a dead man slumped over a wing, her own romance will have to take a backseat.

PUMPKIN PICKING WITH MURDER

Speaking of love affairs, the other passenger in the boat—and only witness to the elderly Mr. Masterson's swan song—is not his wife. It's Erica's beloved and feisty "aunt," Tweety, who quickly becomes the prime suspect. Vowing to clear Tweety, Erica teams up with her sassy BFF and self-appointed security expert Freddie Ng to solve the murder—despite the objections of Grady, who's convinced the amateurs are going overboard in their investigation. And he just may be right. But as Erica and Freddie start to dredge up long-kept small-town secrets, will they heading straight into troubled waters?
This is the third book I have read in the series (but the second chronologically) and to say that I was excited to start this book is a tremendous understatement. For one thing, fall is just beginning and is my favourite season. I was so excited to start thinking about fall festivals, pumpkins, and other fun seasonal activities alongside Erica and her best friend Freddie.
The book begins with Erica returning to Otter Lake from Chicago so she can testify at a murder trial. She discovers that while she has been gone that Freddie has taken his role in providing security to the town to the extreme (think: purchasing a security boat and wearing a uniform around town). I love that Freddie has gotten really into this role, even if it riles up the local sheriff, Grady.
During the Fall fest, a local man dies of what appears to be a heart attack. The problem is he died while visiting the Tunnel of Love with someone who is not his wife and is, in fact, Erica's neighbour Tweety, who once had a love affair with the man. Once the town discovers that the deceased has been poisoned, accusations against Tweety run rampant and Erica has to work to clear Tweety's name.
As in the other books, I love the dynamic between Freddie and Erica. They are both terrible for each other in so many ways (I don't think many people would think of digging up a gravesite with a back hoe in the middle of the night, let alone go through with the act, but Erica and Freddie somehow make it happen), but they are just so fun to follow.
Grady and Erica have an interesting tension as well. Grady, as sheriff, needs to follow the rules and wants to have the town respect him and his role, but Erica is just incapable of following them, especially with Freddie in tow (I now see why it was such a big deal for her to agree in the fifth book in the series to follow the law in her investigations). As well, she lives full-time in Chicago, and doesn't want to necessarily move back home for a man. I get it. I definitely get it, but I like them together and feel bad that they will likely be relegated to just being "star-crossed lovers".
I will say that this book made me like Tweety and Kit Kat, Erica's elderly twin neighbours. In the first book I thought they were quite gruff, and a little mean, but this book really humanized them (especially as you find out they both thought the other was responsible for a murder that took place years and years ago! And that both were convinced they were the smarter twin and were merely looking out for their poor sister).
And of course, Erica's mother is hilarious, having taken a vow of silence and needing to mime out most of her conversations with Erica.
I enjoyed the mystery in this book and was unable to guess the killer until the reveal. However, as I said in my previous review, the biggest draw for this series for me is getting to spend time with Erica and her friends.