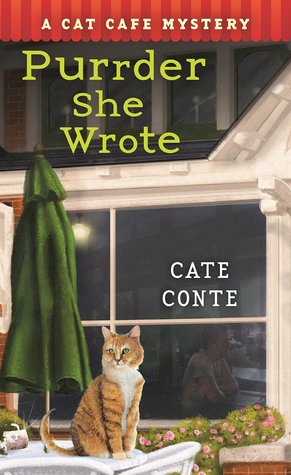 Purrder She Wrote
By Cate Conte Series:
Cat Cafe Mystery #2
Source
Received from the publisher
Published by
Minotaur Books
on July 31, 2018
Received from the publisher in exchange for an honest review. This does not affect my opinion of the book or the content of my review.
Rating:

It's the grand opening of Daybreak Island's cat café, where customers can get cozy with an assortment of friendly felines—and maybe even take one or a few home. Co-owner Maddie James is purring with excitement over her new warm-and-fuzzy venture. . .until she becomes entangled in a petty drama between one of her volunteers, an ardent animal-rights activist, and a wealthy woman who insists on adopting a calico kitty—right this instant. The catfight that ensues is bad enough for business. But when the snubbed socialite is found dead with a tell-tale catnip toy on the scene, suspicion lands squarely on Maddie's staffer. Now, with her reputation and her career prospects on the line (to say nothing of her budding romance with a handsome pet groomer) Maddie must do whatever ittakes to solve the crime—before her nine lives are up.
I will admit that I am not sure how to start this review, or how I should really rate it.
I should point out that this book was really fun, and I found myself trying to push off doing other things (aka. chores) so I could keep reading. But, my overall ranking of the book is greatly skewed by the ending, which left a bad taste in my mouth.
This is the second book in the Cat Cafe Mystery series. I will admit that I had not read the first book, though I have now purchased it and plan to start it soon.
The book follows Maddie James, who lives on an island on the New England coast, and has recently opened a cat cafe in her grandfather's large house. She runs the cafe with the help of her grandfather, who is the former police chief on the island, along with her friend Ethan, who was her business partner in a juice bar when they lived in San Francisco. Purrder She Wrote follows the murder of a local heiress, who gets into an altercation with one of Maddie's volunteers during the opening of the cafe. The victim was found with a cat toy lodged in her throat — the very same kind that Maddie sells in her store. Maddie has to work hard to clear not only her store, but her volunteer as well.
I will admit to being a total crazy cat person. I have had as many as three at a time, and if I had the space and the money, I would love to have as many cats as possible. So this book premise spoke to me (I also realized while reading this book that Cate has written another series, the Pawsitively Organic Mystery series with a different name, Liz Mugavero — they are a really fun read, especially if you are an animal lover).
Conte sure knows how to write a villain — the murdered socialite is one who had been in trouble before for not taking proper care of her cats. She is pampered and a big snob and causes a huge ruckus in the cafe when she is denied for an adoption.
Maddie works at times with her grandfather, a retired police chief, to help solve the murder. I liked that they both seemed to be running independent investigations outside of the official police investigation, and came together to share their information. They seemed like partners who remained a bit at a distance, but it worked really well.
I like that Maddie is very clearly flawed. She struggles in her romantic relationships, especially since it seems that she keeps screwing up her dates and other events with her focus on the investigation. I can't blame her for it, especially when it comes to light that the person who discovered the body is Maddie's sister's husband (which leads to lots of questions about whether he is having an affair), but it is really interesting to me that Maddie's boyfriend makes very clear his frustration with this. I sometimes find that romantic partners have little backbone in cozies, so I like that Conte's characters are different from that. I also really like Maddie's business partner, and I'm hoping that the romance between him and Maddie's sister means we see a bit more of her, too.
So… the part that I didn't like. I was really sad to find out who the killer was. It just made me feel bad for the character and their family member — I was rooting for them to do well and succeed, which obviously did not happen. It's frustrating because the book was so great right up until this reveal. I just left the book feeling sad and that's not really how I want to finish one of these books. I guess that's the downside when you write a book where all the characters are likeable — someone has to be the killer (although maybe someone should write a cozy where we find out the victim died by accident. And then no one will go to jail).
I will read the first book in this series quite soon. I'm hoping it leaves me with a better feeling at the end. It was a good book but I just found the ending coloured my feelings towards the book as a whole, which is really too bad.