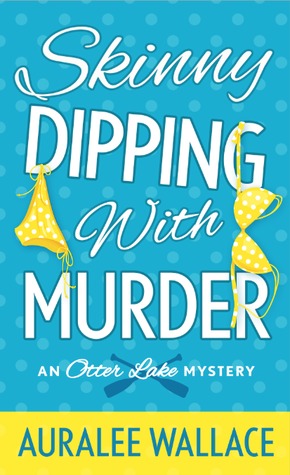 Skinny Dipping With Murder
By Auralee Wallace Series:
An Otter Lake Mystery #1
Source
Purchased
Published by
St. Martin's Paperbacks
on March 1, 2016
Rating:

Erica Bloom is in no rush to return to Otter Lake, the site of her mother's spiritual retreat for women. Erica met her inner goddess years ago and she's happy to have forged a new identity on her own, thank you very much. But her new-age-y, well-meaning mother is losing her grip on the business, and needs Erica's help. So she heads back to her New Hampshire hometown, where nothing much has changed-except for maybe the body in the well...

SKINNY DIPPING WITH MURDER
When Erica was a teenager, she fell prey to a practical joke that left her near-naked in Otter Lake's annual Raspberry Social. The incident was humiliating, but it wasn't like anyone got killed-until now. Those who were behind that long-ago prank are starting to turn up dead, and Erica's appearance in town makes her a prime suspect. To make matters worse, the town sheriff just happens to be Erica's old nemesis, Grady Forrester...who also happens to be hotter than ever. Can Erica find a way to dig up the truth-before someone digs her grave?
I started this series after receiving an ARC for the most recent book in the series. That book was so good, so funny, and so scary that I found myself purchasing the first book as soon as I finished reading it… and then found myself purchasing the second book as soon as I had finished the first.
I don't normally like cozies because of the humour in them. In all honesty, they aren't really that funny. They're great because of the small-town charm and the low-stakes mysteries, and just their general 'cozy' nature. This series has all of those things along with tons and tons of laughs. Like, so many that I found myself trying to describe the jokes to my husband (I don't think he was that into it, or I may have done a terrible job of it, but either way, I'd never found myself doing that before).
Erica lives in Chicago, working as a paralegal, but returns to her hometown of Otter Lake in order to help out her mom who runs a women's retreat out of their island home. Erica is unhappy to return, due to feelings of embarrassment after accidentally flashing the town during the Raspberry Social years ago. While helping out her mom, Erica finds the body of one of her greatest tormentors and quickly comes under suspicion. Erica and her high school best friend, Freddy, team up to try to uncover the killer before Grady, the sheriff and former love interest of Erica, can solve it himself.
I have said before in other reviews that I don't like when the main characters are too stuck in their high school past. But, as for this book, it made it so much funnier. No one around town could forget Erica's flashing situation, and she was so enraged by the whole thing that it just made the situation so much funnier (and I could honestly see myself reacting the same way as Erica — her ridiculous and ineffective rage reminded me a lot of my own).
I like Grady — he appears to be a good sheriff, but was also enraged by how Erica's attempts to clear her own name kept messing up his own investigation. He was never condescending or mean (which, again, has been a previous complaint of some cop-cozy relationships in the past), but I totally understood his incredible frustration at Erica's own sleuthing and how it was messing up his own investigation (and resulted in his beloved boat getting blown up!).
I hate to compare these to another series, but I will say that these books so far remind me of Janet Evanovich's Stephanie Plum series in that I don't really care what the mystery is, I just have so much fun going along for the ride. Erica is hilarious (even if she is so stubborn and carries a lot of angry rage) and I love reading about her and Freddy's adventures. I'm so excited to continue this series.
Highly recommended series, especially if you are in the mood for a good laugh.