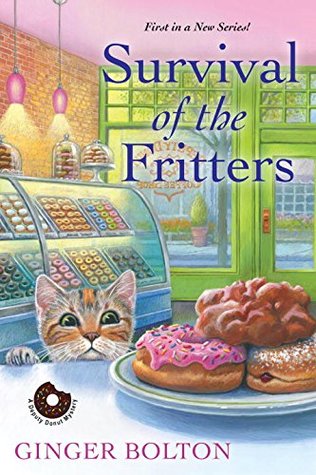 Survival of the Fritters
By Ginger Bolton Series:
Deputy Donut Mystery #1
Source
Purchased
Published by
Kensington Publishing Corporation
on January 30, 2018
Rating:

Emily Westhill runs the best donut shop in Fallingbrook, Wisconsin, alongside her retired police chief father-in-law and her tabby Deputy Donut. But after murder claims a favorite customer, Emily can't rely on a sidekick to solve the crime—or stay alive.

If Emily has learned anything from her past as a 911 operator, it's to stay calm during stressful situations. But that's a tall order when one of her regulars, Georgia Treetor, goes missing. Georgia never skips morning cappuccinos with her knitting circle. Her pals fear the worst—especially Lois, a close friend who recently moved to town. As evening creeps in, Emily and the ladies search for Georgia at home. And they find her—murdered among a scattering of stale donuts . . .

Disturbingly, Georgia's demise coincides with the five-year anniversary of her son's murder, a case Emily's late detective husband failed to solve before his own sudden death. With Lois hiding secrets and an innocent man's life at stake, Emily's forced to revisit painful memories on her quest for answers. Though someone's alibi is full of holes, only a sprinkling of clues have been left behind. And if Emily can't trace them back to a killer in time, her donut shop will end up permanently closed for business . . .
This is the first book in a new-to-me series and as soon as I saw it had a cat and took place in a donut shop, I was in! (My sister Pingwing may remember how much I love donuts, especially when I was pregnant and bought a box of them for myself and refused to share.)
Emily is a young widow who runs a donut shop in Fallingbrook, Wisconsin with her father-in-law. When one of her regular customers, Georgia, fails to show up for her regular knitting group, Emily and the other knitters try to visit her at home, only to discover their friend murdered with donuts left with the body! Emily and her elderly neighbour, Lois, must work to connect the murder with a cold case (which involved Georgia's son) and try to solve both crimes before they are discovered by the killer.
I enjoyed this series-opener. Emily runs a really cool donut shop (honestly, I was so close to going to get donuts every time I picked up this book. The only thing that saved me was how hot it is outside) and has forged some strong bonds with her regular customers. When one of them is murdered she connects with Lois, her new neighbour and the murder victim's best friend. When Lois' great-nephew becomes the primary suspect, the two women team up to solve the crime.
Emily had an interesting backstory, too. Before opening the donut shop with her father-in-law she was a 911 operator and was married to a detective who was killed while investigating the murder of Georgia's son five years prior. This means that Emily has some understanding of how a murder investigation works (though she bungles things quite a bit in the beginning when she discovers Georgia's body and mishandles evidence) but it also explains her hesitation with wanting to work with the police, especially since the lead detective for much of the book is her husband's former partner.
I like the relationship between Emily and Lois. While they are far apart in age they are both widowers and enjoy spoiling Emily's cat, Deputy Donut. I like the scenes of both women trying to investigate the crime together, though Lois does come under suspicion later on in the book, especially when it comes out that her great nephew Randy is the prime suspect.
Emily does appear to have some romantic tension with Brent, her husband's former partner. While nothing really developed in this book, the groundwork has been laid for more to happen between them and I'm cool with it.
I think what held me back while reading this book were some structural issues and problems with setting. I found some scenes moved way too quickly, or seemed a little unbelievable. I have a hard time believing that a van full of women would descend upon a friend's house merely because she didn't attend a knitting group, and that a store owner would join them. I just didn't find that scene to feel very realistic. As well, there were so many characters that seemed related to the main character's high school experience — Emily and her girlfriends just kept bringing it up with a few male characters they encountered and I just thought that with the ages Emily and her friends were, that they would have moved beyond that by now. But, then again, maybe when you live in a small town and see people from school all the time, that it's easy to revert back to how your relationships were at that time.
Overall, this was a book that I enjoyed reading. As I said, there were some scenes that felt a little unrealistic, and some secondary characters seemed a little too quirky or too zany, but Emily is an enjoyable character with an interesting (and sad) backstory. She has forged friendships with fun characters and makes donuts! I'll definitely give the next book a shot.