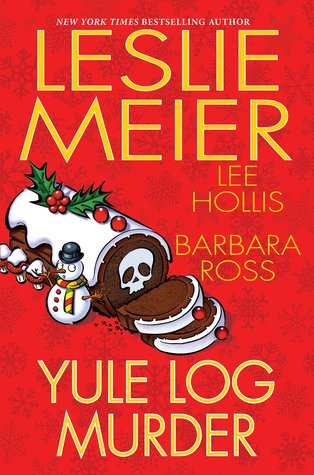 Yule Log Murder
By Barbara Ross, Lee Hollis, Leslie Meier Source
Received from the publisher
Published by
Kensington Publishing Corporation
on October 30, 2018
Received from the publisher in exchange for an honest review. This does not affect my opinion of the book or the content of my review.
Rating:

YULE LOG MURDER by LESLIE MEIER
Lucy Stone is thrilled to be cast as extra in a festive period film--until the set becomes a murder scene decorated in blood and buttercream icing. Returning to her role as sleuth, Lucy dashes to restore peace to Tinker's Cove, unwrap a cold-hearted criminal's MO, and reveal how one ornate yule log cake could possibly cause so much drama.

DEATH BY YULE LOG by LEE HOLLIS
Hayley Powell's holidays aren't off to a very merry start. Not only has her daughter brought Connor--an infuriatingly perfect new beau--home to Bar Harbor, but a local troublemaker has been found dead with traces of her signature yule log cake on his body. As Connor becomes the prime murder suspect, Hayley must put aside her mixed feelings to identify the real killjoy.

LOGGED ON by BARBARA ROSS
Realizing she can't make a decent Buche de Noel to save her life, Julia Snowden enlists the help of her eccentric neighbor, Mrs. St. Onge, in hopes of mastering the dessert for Christmas. With everyone in the old woman's circle missing or deceased, however, it's up to Julia to stop the deadly tidings before she's the next Busman's Harbor resident to meet a not-so-jolly fate.

Kick back with something sweet and indulge in three bite-sized yuletide tales too good to resist!
So, this is a bit of a challenge for me to review as I had very different responses to the three books. I'm going to split the reviews up, and comment based on my most enjoyable read to least.
"Logged on" by Barbara Ross
5/5
I have made no secret of the fact that the Barbara Ross books are my favourite cozy series. I love following Julia Snowden and her family through their experiences of running a clambake business. In this book, Julia struggles with making a Bûche de Noël in order to impress her boyfriend's family. She finally relents and asks her cranky neighbour, Mrs. St. Onge, for help but quickly becomes suspicious when she learns about all the family members who died quickly after eating her desserts!
This was a sweet, fun story. Most of the story revolved around Julia and her cooking lessons with her neighbour, which I loved! The murder mystery didn't really show up till towards the end, but I would have loved to have an entire book devoted to this story. I also love reading about how Julia and her family live during the off-season (I am always fascinated by what it must be like to be a permanent resident in a high-tourist area — what happens when all the tourists leave? What are the stores and hangouts like that are popular only for locals?)
I loved how Busman's Harbour (Julia's town) started participating in new events to make the winter season less dreary, including having big light shows at the botanical gardens.
This was a quick visit with a great community of characters that I really enjoy. This truly felt like a cozy book — it was warm, fun, and made me so excited for the Christmas season.
"Death by Yule Log" by Lee Hollis
4.5/5
The Hayley Powell series is another cozy series that I always enjoy, and this story was no exception! Hayley has started to feel a bit of empty nest syndrome, as her son is unable to make it home for the holidays and her daughter has brought home a new boyfriend, Connor, that she just can't bring herself to like. Plus, a local ruffian is found murdered after he gets into a fight with Connor at a party! Hayley must investigate the murder in order to clear her daughter's boyfriend (even if she doesn't like him that much!)
This book started off so sad! Hayley's son wasn't able to catch a flight home and now she has to deal with her daughter's too-perfect boyfriend! Thankfully, Hayley was able to lift her spirits and try to enjoy the holidays as best as she could until the murder takes place. I liked how much this book focused on the murder mystery — Hayley was able to do a lot of investigating in a short amount of time — but I also loved her attempted investigation of her daughter's boyfriend, which ends in hilarity. This was a light-hearted murder mystery that also had lots of laughs.
"Yule Log Murder" by Leslie Meier
So, this is where I get stuck. I don't like to write reviews of books that I do not enjoy, but I feel like I should, given that this is part of the set.
I've often wondered about whether I should start reading Leslie Meier books, given that there are so many, but after reading this one I don't think they are for me. I found the book to be so judgmental (the murder suspect who has five kids with five dads; the way Lucy looks down on how her son and daughter-in-law raise her grandson), I just really could not enjoy the book. I felt like the daughter-in-law character was almost purposely painted in such a deliberately awful light that I found myself wanting to skip to the end.
This series may be for someone else, but it just wasn't for me.