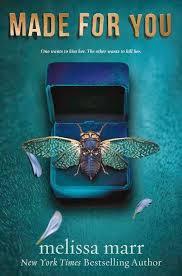 Made For You
By Melissa Marr Source
Received from the publisher
Published by
Harper Collins
on September 16, 2014
Received from the publisher in exchange for an honest review. This does not affect my opinion of the book or the content of my review.
Rating:

C0ver image and summary from Goodreads:

Bestselling author of the Wicked Lovely books Melissa Marr's first contemporary YA novel is a twisted southern gothic tale of obsession, romance, and murder. A killer is obsessed with Eva Tilling. Can she stop him, or will he claim her?

When Eva Tilling wakes up in the hospital, she's confused—who in her sleepy little North Carolina town could have hit her with their car? And why? But before she can consider the question, she finds that she's awoken with a strange new skill: the ability to foresee people's deaths when they touch her. While she is recovering from the hit-and-run, Nate, an old flame, reappears, and the two must traverse their rocky past as they figure out how to use Eva's power to keep her friends—and themselves—alive. But while Eva and Nate grow closer, the killer grows increasingly frantic in his attempt to get to Eva.

For the first time, New York Times bestselling author Melissa Marr has applied her extraordinary talent to contemporary realism. Chilling twists, unrequited obsession, and high-stakes romance drive this Gothic, racy thriller—a story of small-town oppression and salvation. Melissa's fans, and every YA reader, will find its wild ride enthralling.
I loved Melissa Marr's Graveminder when I read it a few years ago, and I was very excited to read her new YA novel, Made For You.
I was drawn to this book because the premise made it out to be a murder mystery with a paranormal twist. While I enjoyed the mystery, I wanted more of the paranormal angle.
I loved the way the story switched between various perspectives: Eve; her best friend Grace; and the unnamed killer. It was so creepy and chilling to get a look into the killer's twisted mind. It also kept me interested in these characters, even if the story didn't always captivate me.
The mystery wasn't all that difficult to solve early on but I enjoyed reading and seeing how everything unfolded. I also loved the way Eve was able to see the deaths of people via touch. I found that aspect of the story so fascinating, but I wish it had been a more prominent part of the book.
I liked the characters, and the way that Eve's relationship with her parents evolved over the course of the book. I also enjoyed the setting, the way customs and traditions influenced the behaviour of the characters.
Overall, this was an entertaining mystery that was light on the paranormal element. I'd recommend Made For You for readers seeking a dark, creepy mystery!