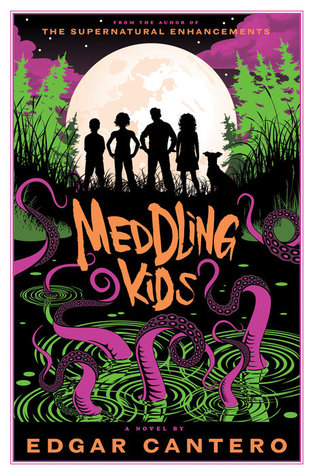 Meddling Kids
By Edgar Cantero Source
Received from the publisher
Published by
Doubleday Books
on July 11, 2017
Received from the publisher in exchange for an honest review. This does not affect my opinion of the book or the content of my review.
Rating:

Cover image and synopsis from Goodreads:

1990. The teen detectives once known as the Blyton Summer Detective Club (of Blyton Hills, a small mining town in the Zoinx River Valley in Oregon) are all grown up and haven't seen each other since their fateful, final case in 1977. Andy, the tomboy, is twenty-five and on the run, wanted in at least two states. Kerri, one-time kid genius and budding biologist, is bartending in New York, working on a serious drinking problem. At least she's got Tim, an excitable Weimaraner descended from the original canine member of the team. Nate, the horror nerd, has spent the last thirteen years in and out of mental health institutions, and currently resides in an asylum in Arhkam, Massachusetts. The only friend he still sees is Peter, the handsome jock turned movie star. The problem is, Peter's been dead for years.

The time has come to uncover the source of their nightmares and return to where it all began in 1977. This time, it better not be a man in a mask. The real monsters are waiting.

With raucous humor and brilliantly orchestrated mayhem, Edgar Cantero's Meddling Kids taps into our shared nostalgia for the books and cartoons we grew up with, and delivers an exuberant, eclectic, and highly entertaining celebration of horror, life, friendship, and many-tentacled, interdimensional demon spawn.
I feel a little funny about categorizing a book set in 1990 as historical fiction, but that was 27 years ago, so…
I was so interested in this book when I read the synopsis. I love Welcome to Night Vale, and I am always interested in a good, spooky read. And the take on Scooby Doo sounded so bizarre and interesting, I had to read it!
The story was really fun but I struggled at the beginning, adjusting to the writing style. It was kind of distracting sometimes (that hair!), and it turns out I'm not a big fan of Lovecraftian horror. So the book wasn't one that I loved, but it definitely had its moments.
There were some really good creepy scenes, and for the most part, I liked the characters. And the setting – small town, deserted old mine, spooky abandoned mansion – they were all great.
I might not have been the ideal target reader for this book, but I did enjoy aspects of it, and read it fairly quickly. It was definitely an interesting read!