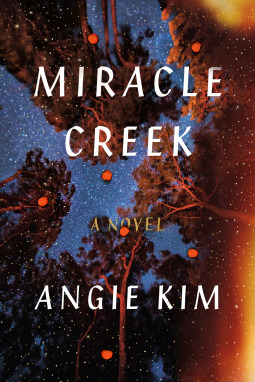 Miracle Creek
By Angie Kim Source
Library
Published by
Sarah Chrichton Books
on April 16, 2019
Rating:

How far will you go to protect your family? Will you keep their secrets? Ignore their lies?

In a small town in Virginia, a group of people know each other because they're part of a special treatment center, a hyperbaric chamber that may cure a range of conditions from infertility to autism. But then the chamber explodes, two people die, and it's clear the explosion wasn't an accident.

A powerful showdown unfolds as the story moves across characters who are all maybe keeping secrets, hiding betrayals. Chapter by chapter, we shift alliances and gather evidence: Was it the careless mother of a patient? Was it the owners, hoping to cash in on a big insurance payment and send their daughter to college? Could it have been a protester, trying to prove the treatment isn't safe?

Miracle Creek uncovers the worst prejudice and best intentions, tense rivalries and the challenges of parenting a child with special needs. It carefully pieces together the tense atmosphere of a courtroom drama and the complexities of life as an immigrant family. Drawing on the author's own experiences as a Korean-American, former trial lawyer, and mother of a "miracle submarine" patient, this is a novel steeped in suspense and igniting discussion. Recommended by Erin Morgenstern, Jean Kwok, Jennifer Weiner, Scott Turow, Laura Lippman, and more-- Miracle Creek is a brave, moving debut from an unforgettable new voice.
This had been on my TBR since it was first published. I managed to go into this without really knowing anything about it, other than that it was a sort of courtroom drama, and that everyone seemed to love it.
This was a fantastic book. It was really well-written, kept me guessing, and it was totally heartbreaking. This was a great book, but it made me so so sad. (I mentioned on Litsy that it was so heartbreaking that I almost wish I hadn't read it – I know that's kind of a strange compliment for a book, but it accurately captures how I felt when I finished it)
This is Angie Kim's debut novel, and I'm definitely looking forward to what she writes next!