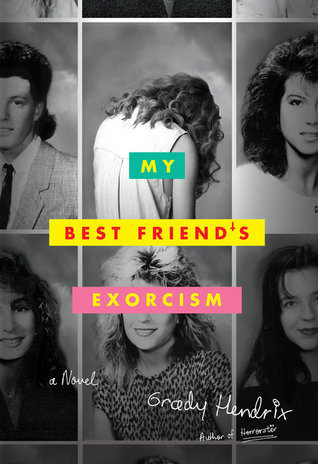 My Best Friend's Exorcism
By Grady Hendrix Source
Received from the publisher
Published by
Quirk Books
on May 17, 2016
Received from the publisher in exchange for an honest review. This does not affect my opinion of the book or the content of my review.
Rating:

Cover image and summary from Goodreads:

Abby and Gretchen have been best friends since fifth grade, when they bonded over a shared love of E.T., roller-skating parties, and scratch-and-sniff stickers. But when they arrive at high school, things change. Gretchen begins to act…different. And as the strange coincidences and bizarre behavior start to pile up, Abby realizes there's only one possible explanation: Gretchen, her favorite person in the world, has a demon living inside her. And Abby is not about to let anyone or anything come between her and her best friend. With help from some unlikely allies, Abby embarks on a quest to save Gretchen. But is their friendship powerful enough to beat the devil?
I really enjoyed Grady Hendrix's Horrorstor when I read it in 2014, so I was definitely excited to read this! It sounded like it would be another fun, creepy read!
For the most part, this was fun and creepy, although it wasn't as scary or creepy as I had hoped it would be. But I really liked the 1980s setting, and the friendship between Abby and Gretchen. I've read a few books this year featuring female friendships, and this book did a good job of demonstrating how meaningful and important those friendships are. After a while, Abby was the only person who hadn't given up on Gretchen.
I had hoped to read more about what happened to Gretchen, but the story had a nice slow build up of the creepiness. Was there really something wrong with Gretchen? Were she and Abby simply growing apart? Was Gretchen displaying signs of mental illness? Was she rebelling against a bad home life? Or was she possessed? I wondered all of these things as I read on.
I didn't enjoy My Best Friend's Exorcism as much as I enjoyed Horrorstor, but was definitely a fun read with some yucky and scary moments! Recommended!