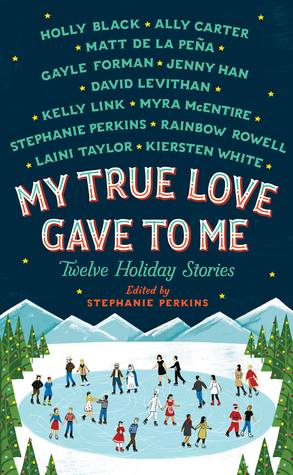 My True Love Gave To Me: Twelve Holiday Stories
By Stephanie Perkins (Editor) Source
Received from the publisher
Published by
St. Martin's Press
on October 14, 2014
Received from the publisher in exchange for an honest review. This does not affect my opinion of the book or the content of my review.
Rating:

Cover image and summary from Goodreads:

If you love holiday stories, holiday movies, made-for-TV-holiday specials, holiday episodes of your favorite sitcoms and, especially, if you love holiday anthologies, you're going to fall in love with MY TRUE LOVE GAVE TO ME: TWELVE HOLIDAY STORIES by twelve bestselling young adult writers, edited by international bestselling author Stephanie Perkins.
I was so excited to read this! Christmas is my favourite time of year so I couldn't wait to jump into this collection! Like I've seen others do, I thought it would make sense to briefly list my thoughts on each story.
1. Midnights by Rainbow Rowell
This story was really good! Sweet and funny and adorable, and it felt so Rainbow Rowell-y. I'd love to read a full novel about Noel and Mags!
2. The Lady and the Fox by Kelly Link
This one confused me somewhat. I liked elements of the story quite a bit, but as a whole I didn't love it. Perhaps this is one that I would have enjoyed more had it been a longer story with more explanation.
3. Angels in the Snow by Matt de la Pena
I loved this one! And I love Olive the cat. I'd definitely want to read more about these characters, and now I want to read some of Matt de la Pena's other work.
4. Polaris is Where You'll Find Me by Jenny Han
This was an adorable story. I wish it had been longer, but it was fun and cute.
5. It's a Yuletide Miracle, Charlie Brown by Stephanie Perkins
I loved this story so much. I wanted to read MORE! It's so sweet and romantic and Christmas-y!
6.Your Temporary Santa by David Levithan
I enjoyed this one, and I've enjoyed David Levithan's writing in the past, but this story wasn't a standout for me.
7. Krampuslauf by Holly Black
Again, for me, this one wasn't a standout,
8. What the Hell Have You Done, Sophie Roth? by Gayle Forman
This was lovely! The story was sweet and romantic, and yet another that I'd love to read as a full novel.
9. Beer Buckets and Baby Jesus by Myra McEntire
I enjoyed this story, but I didn't love it.
10. Welcome to Christmas, CA by Kiersten White
This story was another one that I enjoyed, but it didn't totally win me over. It was fun but not one of my favourites.
11. Star of Bethlehem by Ally Carter
LOVED! Please write a whole novel out of this one! The premise, the romance, the intrigue – this was one of my favourites for sure!
12. The Girl Who Woke the Dreamer by Laini Taylor
I wasn't sure about this story at first, but by the end I loved it! This was so good.
Overall, this was a great collection! I'm not a huge fan of short story collections, but a Christmas short story collection featuring many authors whose work I enjoy is reason enough for me to pick this one up! This is a fabulous collection to put you in the holiday spirit! Highly recommended!