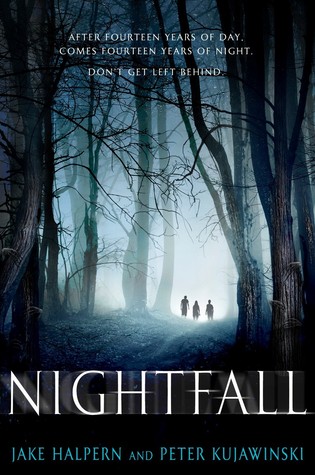 Nightfall
By Jake Halpern and Peter Kujawinski Source
Received from the publisher
Published by
G.P. Putnam's Sons Books for Young Readers
on September 22, 2015
Received from the publisher in exchange for an honest review. This does not affect my opinion of the book or the content of my review.
Rating:

Cover image and summary from Goodreads:

Night is coming.

On Marin's island, sunrise doesn't come every twenty-four hours--it comes every twenty-eight years. Each sunset, the townspeople sail to the south, where they wait out the long Night. None of the adults will tell Marin, Kana, or their friend Line exactly what happens when they leave the island, but when the three are accidentally left behind in the gathering dusk, they learn the truth: at Night, their town belongs to others, and those others want them gone.

Fleeing through the now-alien landscape that used to be their home, the three confront shocking transformations and uncomfortable truths about themselves.  They are challenged to trust one another or perish. Marin, Kana, and Line must find their way off the island . . . before the Night finds them.
I'd heard that this was a creepy book and I love YA horror and supernatural, so I was drawn to this book as soon as I heard about it!
The first part of this book was really good and creepy, but as the story progressed, it was less frightening. The mystery of what was out there in the darkness was interesting, but I did wish for more of an explanation than I got.
I liked the characters and the writing, but didn't love the book. I think I enjoyed the first part of the story the most, and never really felt sucked into the story.
Nightfall wasn't a perfect read for me, but it was intriguing and spooky at the start. Recommended.
Find out more on the publisher's website!
Buy a copy for yourself: