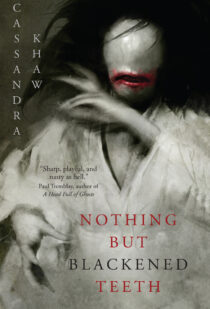 Nothing But Blackened Teeth
By Cassandra Khaw Source
Purchased
Published by
Nightfire
on October 19, 2021
Rating:

A Heian-era mansion stands abandoned, its foundations resting on the bones of a bride and its walls packed with the remains of the girls sacrificed to keep her company.

It's the perfect wedding venue for a group of thrill-seeking friends.

But a night of food, drinks, and games quickly spirals into a nightmare. For lurking in the shadows is the ghost bride with a black smile and a hungry heart.

And she gets lonely down there in the dirt.
As soon as I saw that cover and read the synopsis, this became one of my most anticipated 2021 reads, and I eagerly pre-ordered a copy.
I figured it would make an excellent October read close to Halloween, and its slim size (my hard copy was about 130 pages) meant that I could finish it in one day.
I went into this book with really high hopes, partly because it was getting a lot of buzz, but partly because from the synopsis, I thought it was my kind of book. I love a good haunted house story!
Unfortunately I didn't love it! As much as I tried, I just wasn't invested in the characters and the outcome. Yes, the setting was spooky and there were some good creepy and gruesome moments, but I thought the writing and story were just ok. Maybe the novella-length was not for me, since I wanted more detail and more answers.
But while I didn't love it, I know that lots of other readers did, so if you're in the mood for a creepy haunted house-type story, this might be the one for you!