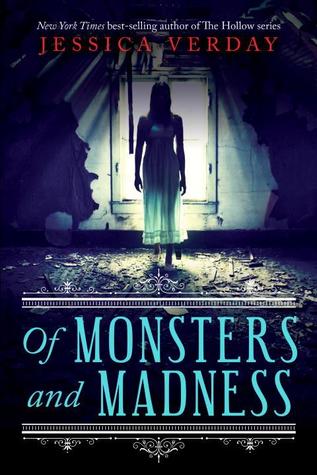 Of Monsters and Madness
By Jessica Verday Series:
Of Monsters and Madness #1
Source
Received from the publisher via Edelweiss
Published by
Egmont USA
on September 9, 2014
Received from the publisher via Edelweiss in exchange for an honest review. This does not affect my opinion of the book or the content of my review.
Rating:

Cover image and summary from Goodreads:

A romantic, historical retelling of classic Gothic horror featuring Edgar Allan Poe and his character Annabel Lee, from a New York Times best-selling author.

Summoned to her father's home in 1820's Philadelphia, a girl finds herself in the midst of a rash of gruesome murders in which he might be implicated. She is torn romantically between her father's assistants-one kind and proper, one mysterious and brooding-who share a dark secret and may have more to do with the violent events than they're letting on.
I really wanted to like this book, and wish I had enjoyed it more than I did. Unfortunately, for lack of a better word, 'meh' sums up my feelings about this book.
It was a quick read, but other than Maddy (Anabelle's friend and maid in the household), I felt no connection to, or even interest in, the characters. I also found that the mystery was not mysterious at all, and that the romance was not very romantic.
I must say, I'm not really familiar with Poe and his work, so I don't know how accurate this story is with regard to his writing and his life, but that didn't matter to me anyway since I knew going in that this is a work of fiction and I expect some artistic liberties to be taken (but I must recommend The Poe Shadow by Matthew Pearl – adult historical fiction – if you are looking for a good Poe mystery. Pearl's novels are wonderful).
Somehow, this book reminded me an awful lot of The Madman's Daughter by Megan Shepherd. I'm not quite sure what it was that made me think so often of that book – perhaps it had to do with each main character's relationship with her father, and the medical/scientific aspect to the stories, but whatever the reason, this book kept popping into my brain as I read Of Monsters and Madness.
This wasn't a bad book – I enjoyed reading about Anabelle's desire to study medicine, her friendship with Maddie, and the historical setting – it just wasn't the book for me. And the ending totally threw me off. I hadn't expected this to be part of a series, but the way this book ended definitely indicates that there will be another book. Unfortunately, I think I will pass on a sequel, but if you're intrigued by the synopsis, check this one out (and let me know what you think!).