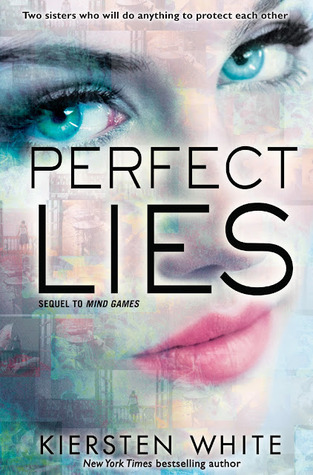 Perfect Lies
By Kiersten White Series:
Mind Games #2
Source
Received from the publisher via Edelweiss
Published by
HarperTeen
on February 18, 2014
Received from the publisher via Edelweiss in exchange for an honest review. This does not affect my opinion of the book or the content of my review.
Rating:

From Goodreads:

Annie and Fia are ready to fight back.

The sisters have been manipulated and controlled by the Keane Foundation for years, trapped in a never ending battle for survival. Now they have found allies who can help them truly escape. After faking her own death, Annie has joined a group that is plotting to destroy the Foundation. And Fia is working with James Keane to bring his father down from the inside.

But Annie's visions of the future can't show her who to trust in the present. And though James is Fia's first love, Fia knows he's hiding something. The sisters can rely only on each other - but that may not be enough to save them.
This is the sequel to Mind Games, which I read last year for book club. I was pleased to learn that this was a duology, and knowing that meant a resolution of sorts would happen, I was looking forward to reading this.
I totally needed a refresher on the plot when I started this one. While I liked Mind Games, its characters and story didn't really stick in my brain. Once I got on track though, I found this a really quick read.
For some reason, I felt that this was more Annie's story than Fia's, even though the chapters alternate between the two girls. Again, the narration jumps around time-wise, which I found really confusing at first. Eventually though I was able to go with it and actually liked that I got to read about two different characters at two different points in time.
I loved that Annie became more take-charge in this book, and wanted to be more active rather than passive. I liked seeing that part of her come out, and I also liked the romance with Cole. I certainly liked him a lot better than Adam (who seemed to barely be in this book) and James (who is an ass in my opinion). I also loved Pixie, who Fia meets while working with James. She was funny and snarky, so a perfect match for Fia!
Unfortunately, I still felt that I didn't get the explanation I wanted as far as who Keane was and why he was doing what he was doing. It just wasn't enough for me to get me truly invested in the story and characters.
There were some plot twists and I was actually surprised by the ending, in a good way. Overall, this was a fun, sometimes confusing read with some good action scenes and an interesting narrative structure. but not one that I think will have any lasting resonance with me.