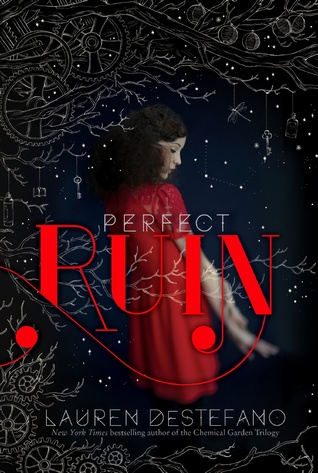 Perfect Ruin
By Lauren DeStefano Series:
The Internment Chronicles #1
Source
Received from the publisher
Published by
Simon & Schuster Books for Young Readers
on October 1, 2013
Received from the publisher in exchange for an honest review. This does not affect my opinion of the book or the content of my review.
Rating:

On the floating city, you can be anything you dream - a novelist or a singer, a florist or a factory worker... Your life is yours to embrace or to squander. There's only one rule: you don't approach THE EDGE. If you do, it's already over.

Morgan Stockhour knows getting too close to the edge can lead to madness. Even though her older brother, Lex, was a Jumper, Morgan vows never to end up like him. There's too much for her at home: her parents, best friend Pen, and her betrothed, Basil. Her life is ordinary and safe, even if she sometimes does wonder about the ground and why it's forbidden.

Then a murder, the first in a generation, rocks the city. With whispers swirling and fear on the wind, Morgan can no longer stop herself from investigating, especially once she meets Judas. Betrothed to the victim, Judas is being blamed for the murder, but Morgan is convinced of his innocence. Secrets lay at the heart, but nothing can prepare Morgan for what she will find—or whom she will lose.
I was really excited to read this book. I enjoyed Lauren DeStefano's Chemical Garden trilogy (Wither, Fever, Sever) enough that I was curious to read what she wrote next. Then I read the summary of this book and was immediately intrigued: a floating city in the sky? Murders? Yes please!
I loved the setting: Internment is a city that is somehow floating in the sky, and it is small. It takes two hours for the train to go all the way around. Talk about tiny! Everyone in Internment knows to stay away from the edge. Those who can't resist its lure are changed afterwards, and seem to become pariahs. Morgan's older brother, Lex, is one of those people. Despite what happened to him, Morgan finds herself wondering sometimes about the edge, and about the ground below.
Despite Morgan's fear of someone finding out that she thinks about the edge, her life in Internment is, for the most part, pretty peaceful. Until a girl's dead body is found on the train tracks one day, followed by a series of events that cause the people of Internment to live in fear, with the king laying down some pretty strict rules while he tries to quash a rebellion taking shape. In the midst of all this, Morgan makes some major discoveries about her family, the king, and Internment itself.
I really liked this book. I enjoyed it even more than the books in the Chemical Garden series. DeStefano has created a world that seems peaceful and perfect, but feels claustrophobic at the same time. I felt a growing paranoia as I read, as it seemed that every citizen was under scrutiny. The effect of the surveillance on the characters becomes clear as the story goes on, and I really enjoyed seeing the different reactions everyone had to it.
I liked the characters, especially Morgan's brother Lex and his wife Alice. I wanted to know more about Lex, why he was a 'jumper', and I felt really attached to him for whatever reason. I loved the relationship he had with Alice. I also liked Pen, Morgan's best friend. She was, at least in the beginning, much more rebellious than Morgan.
The romance in this book was interesting. Because Internment is small and land and resources are limited, there are rules surrounding marriage and procreation. Boys and girls are betrothed to each other at a very young age, and wear clear rings that will eventually be filled with their betrothed's blood. If one person dies, the other does not remarry – s/he stays single. An interesting idea, for sure, and I look forward to reading more about it throughout the series. Basil, Morgan's betrothed, seems to genuinely care for her. He certainly risked a lot for her, and I liked their blossoming romance. Pen and Thomas, on the other hand, were fiery and funny. I actually enjoyed reading about both romantic pairings, to my surprise, as I tend not to get too invested in romance plots.
This story took a turn that I didn't anticipate, at least not taking place so quickly. I mean, oh my gosh, that ending! I am desperate now for book two! I have to admit that the plot felt that it was dragging at times, and I don't appreciate cliffhanger style endings, but overall, I thought this was a highly entertaining, well-written story. There are so many interesting things about Internment to explore and I'm really excited for the rest of this series.