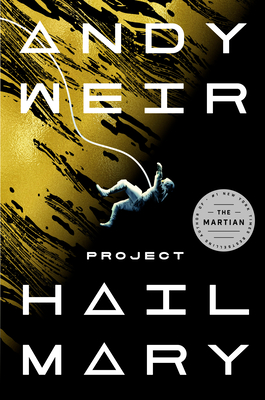 Project Hail Mary
By Andy Weir Source
Purchased
Published by
Ballantine Books
on May 4, 2021
Rating:

Ryland Grace is the sole survivor on a desperate, last-chance mission--and if he fails, humanity and the earth itself will perish.

Except that right now, he doesn't know that. He can't even remember his own name, let alone the nature of his assignment or how to complete it.

All he knows is that he's been asleep for a very, very long time. And he's just been awakened to find himself millions of miles from home, with nothing but two corpses for company.

His crewmates dead, his memories fuzzily returning, he realizes that an impossible task now confronts him. Alone on this tiny ship that's been cobbled together by every government and space agency on the planet and hurled into the depths of space, it's up to him to conquer an extinction-level threat to our species.

And thanks to an unexpected ally, he just might have a chance.

Part scientific mystery, part dazzling interstellar journey, Project Hail Mary is a tale of discovery, speculation, and survival to rival The Martian--while taking us to places it never dreamed of going.
I was on the fence about this book initially, because as much as I loved The Martian, I really disliked Artemis. So I wasn't sure if I was all that eager to check out this newest book from Andy Weir. But I started to hear such great things about this book that I couldn't resist buying my own copy, and I was very excited when I started reading.
I loved this book so much, and pretty much by the end of the first chapter I was hooked! There are so many things that I loved about this but I'm going to put them behind a spoiler alert, because I think going into this without knowing too much about the plot was part of what made it such a fun read!
View Spoiler »
I think the way the story jumped back and forth between Ryland Grace's present predicament and the past that eventually leads up to the present day events was such a great way to pull the reader in, because while there was an element of danger and excitement, this also gave the story such a mystery: why was he in space? What happened to his crewmates? Why couldn't he remember anything? I simply enjoyed reading as events were all laid out for me, connecting the dots as I read.

As with The Martian, I loved the incorporation of the science in this book because while everything was really clearly spelled out, and definitely way over my head, it felt natural and well-incorporated, not too clunky, and even though I didn't really understand it, I found it all so interesting! I kept putting the book down to look things up.

And of course, my favourite part of this story was Rocky and his relationship with Ryland! I was absolutely not expecting an alien life form in this book, so when Rocky made his first appearance I was pretty shocked, but it turns out that I love that little guy so much! I was so emotionally invested in Ryland and Rocky's relationship and their joint missions to save their species and planets, and I was pretty much on the edge of my seat as I approached the end of the book. « Hide Spoiler
I've read so many books this year but very few that managed to intrigue me, entertain me, make me laugh, and connect with me on an emotional level like this book did. I am very excited to see this as a movie, but I recommend you all read the book first!