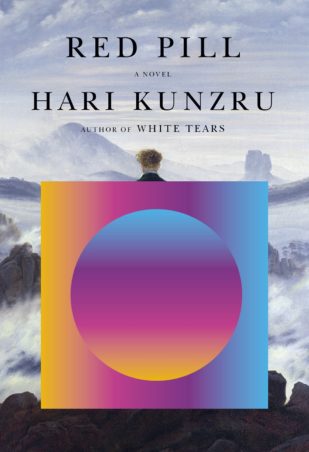 Red Pill
By Hari Kunzru Source
Received from the publisher
Published by
Knopf Publishing Group
on September 1, 2020
Received from the publisher in exchange for an honest review. This does not affect my opinion of the book or the content of my review.
Rating:

After receiving a prestigious writing fellowship in Germany, the narrator of Red Pill arrives in the Berlin suburb of Wannsee and struggles to accomplish anything at all. Instead of working on the book he has proposed to write, he takes long walks and binge-watches Blue Lives--a violent cop show that becomes weirdly compelling in its bleak, Darwinian view of life--and soon begins to wonder if his writing has any value at all.

Wannsee is a place full of ghosts: Across the lake, the narrator can see the villa where the Nazis planned the Final Solution, and in his walks he passes the grave of the Romantic writer Heinrich von Kleist, who killed himself after deciding that "no happiness was possible here on earth." When some friends drag him to a party where he meets Anton, the creator of Blue Lives, the narrator begins to believe that the two of them are involved in a cosmic battle, and that Anton is "red-pilling" his viewers--turning them toward an ugly, alt-rightish worldview--ultimately forcing the narrator to wonder if he is losing his mind.
This was a really timely story, which is part of what made it such a tense read for me I think! The pace was slow and while I wasn't sure where the story was going, I had a sense of paranoia and dread building the entire time (the title is a reference to the scene in The Matrix where Morpheus offers Neo a choice of a red pill or blue pill, so that may tell you something about this book before you start reading).
It was also a strange and frustrating experience at times, because like the narrator, I was certain that something fairly diabolical was going on but could not quite put my finger on it. Red Pill was an unsettling, discomforting read, and reading about its narrator fumbling for meaning or a bigger picture felt all too familiar.
I wanted to read this because I love Hari Kunzru's White Tears, but this is a very different book from that one in the sense that (apart from them obviously being different books) I felt like White Tears was clearly a horror story and a mystery, whereas Red Pill is much trickier to nail down. 
That said, I have been entranced by both books hat I've read by Hari Kunzru, and will definitely be reading his backlist.