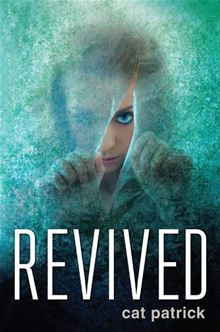 Revived
By Cat Patrick Source
Library
Published by
Little
,
Brown Books for Young Readers
on May 8, 2012
Rating:

It started with a bus crash.
Daisy Appleby was a little girl when it happened, and she barely remembers the accident or being brought back to life. At that moment, though, she became one of the first subjects in a covert government program that tests a drug called Revive.

Now fifteen, Daisy has died and been Revived five times. Each death means a new name, a new city, a new identity. The only constant in Daisy's life is constant change.

Then Daisy meets Matt and Audrey McKean, charismatic siblings who quickly become her first real friends. But if she's ever to have a normal life, Daisy must escape from an experiment that's much larger--and more sinister--than she ever imagined.

From its striking first chapter to its emotionally charged ending, Cat Patrick's Revived is a riveting story about what happens when life and death collide.
Another library book – I wonder if I'll ever get around to reading other books I've actually purchased…
This book appealed to me right away. The idea of a drug that can bring people back after they've died was very intriguing, so when my hold was available at the library, I rushed off to get it!
Daisy is 15 years old and lives with Mason and Cassie, who appear to the world as her loving parents, but who are actually two agents of the Revive program. They keep an eye on Daisy while also doing their work on the program. Every time Daisy dies and is revived, they all have to pack up and move somewhere else, with new names.
Because Daisy has died and been revived so often, she understandably does not have many real friends. She can't tell anyone about the program, and can't let anyone know who she was in any of her other lives in other towns. I should note that Daisy was brought into the Revive program as a child: she was one of 21 people on a school bus that plunged into a river, killing everyone. Most of those children were revived and brought into the program, and one of them – Megan – is Daisy's only real friend, but she lives in a different city.
When Daisy begins another school year at another school, she meets Audrey and decides to make a friend. She and Audrey become close, and Daisy develops feelings for Audrey's brother, Matt, who seems to reciprocate. Of course, all of this combines with Daisy's curiosity about Revive, and leads to a lot of trouble…
I really liked a lot about this book. I liked the characters – I sympathized with Daisy, who was never given a choice to join the Revive program or not, and grew up with two agents who had to pose as her parents. However, she seemed to have a very touching father-daughter relationship with Mason. I also liked Audrey – she was funny and her friendship allowed Daisy to be a regular teenager for once.
The plot moved along pretty quickly, and once I got into the book, I read it in just a couple of days. I liked the little plot twist, although I guessed it early on (but didn't mind being right), and appreciate that, for a change, this seems to be a stand-alone book rather than the beginning of a series. Although I was left with some questions, I was happy to read a book that wasn't clearly leading into a sequel.
I would have liked to have learned more about the actual drug and process used in the Revive program. Although I've categorized this book as science fiction, it was pretty light on the science. However, I really liked this book and definitely recommend it, if you like contemporary YA with some 'sci-fi lite'.