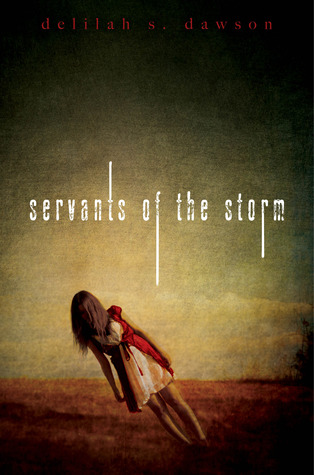 Servants of the Storm
By Delilah S. Dawson Source
Received from the publisher via Edelweiss
Published by
Simon Pulse
on August 5, 2014
Received from the publisher via Edelweiss in exchange for an honest review. This does not affect my opinion of the book or the content of my review.
Rating:

Cover image and summary from Goodreads:

A year ago Hurricane Josephine swept through Savannah, Georgia, leaving behind nothing but death and destruction — and taking the life of Dovey's best friend, Carly. Since that night, Dovey has been in a medicated haze, numb to everything around her.

But recently she's started to believe she's seeing things that can't be real ... including Carly at their favorite cafe. Determined to learn the truth, Dovey stops taking her pills. And the world that opens up to her is unlike anything she could have imagined.

As Dovey slips deeper into the shadowy corners of Savannah — where the dark and horrifying secrets lurk — she learns that the storm that destroyed her city and stole her friend was much more than a force of nature. And now the sinister beings truly responsible are out to finish what they started.

Dovey's running out of time and torn between two paths. Will she trust her childhood friend Baker, who can't see the threatening darkness but promises to never give up on Dovey and Carly? Or will she plot with the sexy stranger, Isaac, who offers all the answers — for a price? Soon Dovey realizes that the danger closing in has little to do with Carly ... and everything to do with Dovey herself.
Right away, I knew this was going to be my kind of book. It didn't waste any time before it got creepy and unsettling, which I loved, but the spookiness was balanced by Dovey's snark. I loved so much about this book: the setting, the characters, the story.
In the wake of Hurricane Josephine, Dovey lives in a drug-induced fog, taking her pills as she's told, but one day she sees something that makes her want to wake up – so she stops taking her pills, and realizes that she's not the only one who's been living that way.  She meets Isaac, who reluctantly tells her what's going on in town, and aided by her childhood friend Baker, they set out to help Carly and save their city.
Dovey's Savannah is dark, desolate, and dangerous. Every street, every alley, every place Dovey went seemed haunted by its history and full of danger because of Josephine. Once she stops taking her pills, something as innocuous as taking out the trash turns into something dangerous, and the story had an atmosphere full of tension which had me on edge while reading.
I just loved Dovey. She was tough, she was funny, and she was absolutely determined to get to the bottom of things and find out what happened to Carly. She was also confused by her feelings for Isaac, who was mysterious and possibly dangerous, and her feelings for Baker, who she'd known her whole life and who certainly had feelings for her. Love triangles are not my thing, so I won't say too much about this one. However, I will admit to having some pretty major swoons for Isaac!
The story grabbed me right away and kept me hooked until the end. I love a good story about monsters and demons, and for me, this one totally delivered. I don't want to give much away, so I won't get into the details, but I really liked the way things came together. There were times early in the story that I found myself scratching my head and wondering about something, and then by the end of the story I could see how those moments were part of the bigger story – if that makes sense.
The only thing that truly bothered me about this book was the ending, because if there is no book two and that's the way this story ends, I'm going to be very upset! I need to know more and have to find out what happens next. This is one book that I'm desperately hoping turns out to be part of a series!
If you like stories full of tension, chills, and cute boys, this should be right up your alley and I totally recommend it!