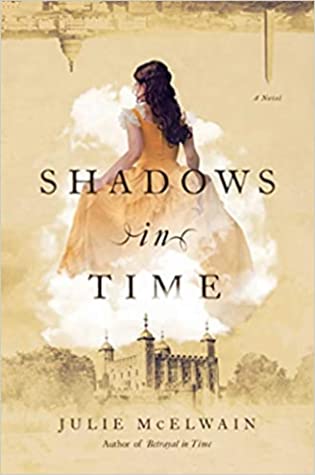 Shadows In Time
Series:
Kendra Donovan #5
Source
Library
Published by
Pegasus Books
on August 4, 2020
Rating:

In 1816 London, Kendra Donovan tries to track down a missing man, but also finds trouble brewing closer to home in the fifth book in Julie McElwain's riveting time-travel mystery series.

When Kendra Donovan is approached by Mrs. Gavenston with an unusual request―to find her business manager, Jeremy Pascoe, who recently vanished―the FBI agent is eager to accept the challenge. To Kendra's way of thinking, spending her time locating a missing person suits her more than perfecting her embroidery, painting watercolors, practicing on the pianoforte, or any of the other activities that are socially acceptable for young ladies in the early nineteenth century.

Unfortunately, the missing person's case turns into a murder investigation after Kendra finds the man stabbed to death in a remote cottage that he'd been using as a writer's retreat. Everyone who knew him says that Pascoe was a fine fellow. So who hated him enough to kill him?

Seeking the answer to that question plunges Kendra into the world of big business, as Mrs. Gavenston happens to run one of the largest breweries in England. And if there is one thing Kendra knows hasn't changed, it's that big business means big money . . . and money is always a motive for murder.

While Kendra works to sift through the truth and lies swirling around Mr. Pascoe's life―and death―her world is rocked closer to home when a woman arrives claiming to be the Duke of Aldridge's presumably dead daughter, Charlotte. It is a distraction Kendra cannot afford, not when there is a killer lurking in the shadows who will do anything to keep the truth from being exposed.
I have really enjoyed this series, as it combines two things I usually love: murder mysteries, and time travel. I look forward to each new book in the series.
This is the first book in the series that I struggled to really get into it. The murder mystery didn't really grab me at first, but eventually I did get into it. I was most interested in the arrival of Carlotta and her claim to be the Duke's presumed-dead daughter. That aspect of the story was the most intriguing to me, and there were certainly some parallels between Carlotta and Kendra's entries to the Duke's household, but it took a backseat to the murder investigation for most of the book.
There were some characters I didn't expect to see again but enjoyed their return, and as always, I loved getting to spend more time with Rebecca and Sam. And I surprised myself by feeling quite invested in the romance between Kendra and Alec and whether they would move forward with their relationship or not.
Overall, while this entry in the series took its time drawing me in, once it did I was once again happy to be immersed in Kendra's story. Recommended!