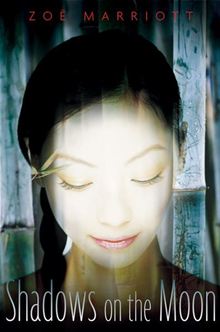 Shadows on the Moon
By Zoe Marriott Series:
The Moonlit Lands #1
Source
Library
Published by
Walker Books
on July 7, 2011
Rating:

Trained in the magical art of shadow-weaving, sixteen-year-old Suzume is able to recreate herself in any form - a fabulous gift for a girl desperate to escape her past. But who is she really? Is she a girl of noble birth living under the tyranny of her mother's new husband, Lord Terayama, or a lowly drudge scraping a living in the ashes of Terayama's kitchens, or Yue, the most beautiful courtesan in the Moonlit Lands? Whatever her true identity, Suzume is destined to capture the heart of a prince - and determined to use his power to destroy Terayama. And nothing will stop her, not even love.
This book was a big one (my copy from the library was 400+ pages), and it took me some time to work through it.
This book intrigued me, because the author describes it on the backflap as a re-imagining of Cinderella:
"I never liked Cinderella as a little girl. She seemed like the worst kind of wimp to me, and I hated the fact that she needed someone else to come along and rescue her […] What if Cinderella wasn't a wimp at all? What if she was strong and brave and out for revenge all along?"
I must admit that it took me a while to really get into the book (probably 50-75 pages), which was a little frustrating. The book just didn't grab me right away, and couldn't quite hold my interest at times. However, once I got into it, I thought the book was really well-written. There was a lot of detail, and the author's descriptions were so vivid. It was not a book that you can rush – I grew to enjoy taking my time with it, savouring the story.
Suzume witnesses the death of her father and cousin as a child, and as she learns that it was the result of betrayal by someone close to the family, she vows to get revenge. This becomes the driving force in Suzume's life, and as she uses her developing shadow-weaving skills to hide and change her identity over time, she comes up with a plan that involves becoming the Shadow Bride of the prince. Becoming the Shadow Bride would mean never marrying, never being with another man. However, as she meets and falls in love with Otieno, another shadow-weaver, she realizes that she may have to choose between getting the revenge she has been planning for so long, or being with the one she loves.
I loved the setting. I love reading stories set in other countries, and I loved reading about the custom and cultures of Suzume's life.  As her identity changed, so did her social standing, and reading about the changes to her life was really interesting. I also liked the idea of shadow-weaving. I wish that Suzume's power had been explored a bit more, though, since she apparently had so much power (e.g. she could create objects).
There was some darkness to the book. Right from the start, the reader learns that Suzume harms herself, and of course basing her life on getting revenge for the murder of her family is not a light subject. I appreciated that this was no fluffy Cinderella retelling. It made Suzume a more complex character, and while I didn't always agree with her choices, I felt that I could understand why she would make those choices.
Overall, while I didn't fall in love with this book, I liked the setting and the story, and would recommend it to fans of historical fiction with some YA, fantasy elements mixed in.