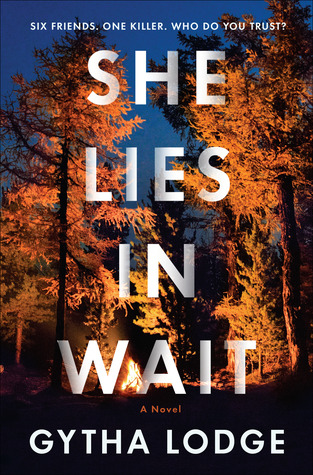 She Lies In Wait
By Gytha Lodge Series:
DCI Jonah Sheens #1
Source
Library
Published by
Random House
on January 8, 2019
Rating:

On a scorching July night in 1983, a group of teenagers goes camping in the forest. Bright and brilliant, they are destined for great things, and the youngest of the group—Aurora Jackson—is delighted to be allowed to tag along. The evening starts like any other—they drink, they dance, they fight, they kiss. Some of them slip off into the woods in pairs, others are left jealous and heartbroken. But by morning, Aurora has disappeared. Her friends claim that she was safe the last time they saw her, right before she went to sleep. An exhaustive investigation is launched, but no trace of the teenager is ever found.

Thirty years later, Aurora's body is unearthed in a hideaway that only the six friends knew about, and Jonah Sheens is put in charge of solving the long-cold case. Back in 1983, as a young cop in their small town, he had known the teenagers—including Aurora—personally, even before taking part in the search. Now he's determined to finally get to the truth of what happened that night. Sheens's investigation brings the members of the camping party back to the forest, where they will be confronted once again with the events that left one of them dead, and all of them profoundly changed forever.
This was a really good, twisty procedural that kept me guessing. I really liked the team of detectives, and also the way the narrative moved back and forth in time, showing events leading up to Aurora's death, and the detectives investigating what happened that night.
I also liked that we got to see the present-day group of friends from the night in question. It kept me guessing about what really happened the night Aurora died.
I quite liked this and as soon as I finished, I put a hold on the next in the series at my library!