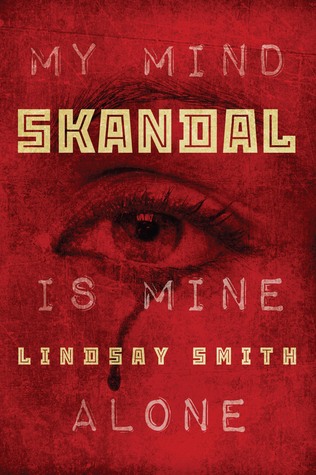 Skandal
By Lindsay Smith Series:
Sekret #2
Source
Received from the publisher
Published by
Roaring Brook Press
on April 7, 2015
Received from the publisher in exchange for an honest review. This does not affect my opinion of the book or the content of my review.
Rating:

Cover image and summary from Goodreads:

The dramatic sequel to Sekret, this psychic Cold War espionage thriller follows Yulia to Washington, DC, where she fights to discover the truth about her family without losing control of her mind.

My mind is mine alone.

Life in Washington, D.C., is not the safe haven Yulia hoped for when she risked everything to flee communist Russia. Her father is reckless and aloof, and Valentin is distant and haunted by his past. Her mother is being targeted by the CIA and the US government is suspicious of Yulia's allegiance. And when super-psychics start turning up in the US capitol, it seems that even Rostov is still a threat. Ultimately, Yulia must keep control of her own mind to save the people she loves and avoid an international Skandal.
I read and enjoyed Sekret, the first book in this series, last year. I was curious to see where this story was going to go after the way Sekret ended.
I loved that the story took Yulia and others to D.C. The setting – both geographically and in time – combined into a fascinating backdrop for the events of this story. The contrast between the Russian and American 'psyops' style was super interesting, and my heart went out to Yulia, as she learned a new language and a new culture on top of everything she was dealing with.
I liked getting to learn more about Yulia and her family, and Valya. I also enjoyed meeting new characters in this book, especially Winnie and Cindy.
While some parts of the book really grabbed me, and the action-y scenes had me on the edge of my seat, at other times this book simply couldn't hold my interest.
I have really mixed feelings about Skandal! I definitely wanted to enjoy it more than I did, but I still liked it. Worth a read if you liked Sekret and want to know what happens next!