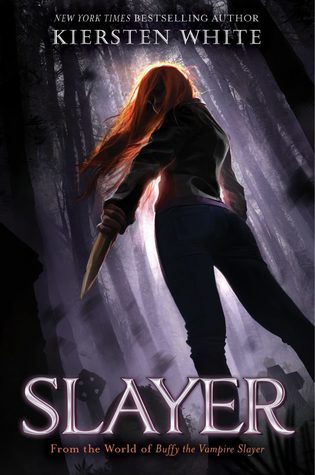 Slayer
By Kiersten White Series:
Slayer #1
Source
Received from the publisher
Published by
Simon Pulse
on January 8, 2019
Received from the publisher in exchange for an honest review. This does not affect my opinion of the book or the content of my review.
Rating:

Nina and her twin sister, Artemis, are far from normal. It's hard to be when you grow up at the Watcher's Academy, which is a bit different from your average boarding school. Here teens are trained as guides for Slayers—girls gifted with supernatural strength to fight the forces of darkness. But while Nina's mother is a prominent member of the Watcher's Council, Nina has never embraced the violent Watcher lifestyle. Instead she follows her instincts to heal, carving out a place for herself as the school medic.

Until the day Nina's life changes forever.

Thanks to Buffy, the famous (and infamous) Slayer that Nina's father died protecting, Nina is not only the newest Chosen One—she's the last Slayer, ever. Period.

As Nina hones her skills with her Watcher-in-training, Leo, there's plenty to keep her occupied: a monster fighting ring, a demon who eats happiness, a shadowy figure that keeps popping up in Nina's dreams…

But it's not until bodies start turning up that Nina's new powers will truly be tested—because someone she loves might be next.

One thing is clear: Being Chosen is easy. Making choices is hard.
I was so excited to read this! I love love love Buffy the Vampire Slayer, and had just finished a series rewatch when I started to read Slayer.
Kiersten White is a Buffy fan, and it showed. She captured the TV show's snark, and while you could read this without having seen the show, I loved all of the references that I picked up on. View Spoiler » I definitely got emotional when Buffy herself showed up. I love her, and I thought the author captured her on the page so well. « Hide Spoiler
I really liked the plot, particularly its Watcher-centric focus. And I liked the dynamic between Nina and her twin, Artemis. Overall I really enjoyed the story, but it felt like there were several occasions where problems or mysteries could have been resolved if people just talked to each other, which frustrated me. There were a few too many instances of people keeping secrets or making assumptions just to serve as something to move the plot forward.
That said, I thought this was a really fun and engaging read. The action scenes were exciting, and I enjoyed its perspective on the Buffyverse. Recommended – and I can't wait to read book two!