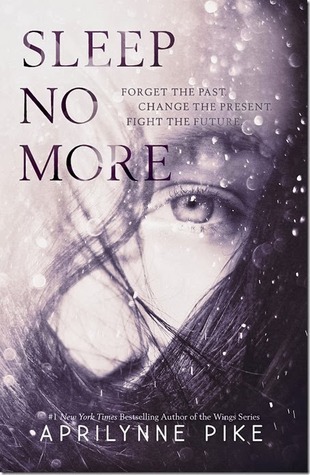 Sleep No More
By Aprilynne Pike Source
Received from the publisher via Edelweiss
Published by
HarperTeen
on April 29, 2014
Received from the publisher via Edelweiss in exchange for an honest review. This does not affect my opinion of the book or the content of my review.
Rating:

Summary and cover image from Goodreads:

The blockbuster film Inception meets Lisa McMann's Wake trilogy in this dark paranormal thriller from #1 New York Times bestselling author Aprilynne Pike. This novel is also perfect for fans of Kelley Armstrong, Alyson Noel, and Kimberly Derting.

Charlotte Westing has a gift. She is an Oracle and has the ability to tell the future. But it doesn't do her much good. Instead of using their miraculous power, modern-day Oracles are told to fight their visions—to refrain from interfering. And Charlotte knows the price of breaking the rules. She sees it every day in her wheelchair-bound mother and the absence of her father. But when a premonition of a classmate's death is too strong for her to ignore, Charlotte is forced to make an impossible decision: continue following the rules or risk everything—even her sanity—to stop the serial killer who is stalking her town.
I was intrigued by the book's summary, and it was a very quick read, but I had a difficult time feeling a connection to the characters. To be honest, I was also really confused at times by a lot of the talk about Charlotte's abilities and the Oracles.
Aside from that, this was a pretty entertaining mystery/thriller. The sense of tension and paranoia gripping the town was really well done, and as the body count climbed and parents kept their children indoors, I began to feel Charlotte's claustrophobia.
There were parts of the story that really interested me and that I wish had received a bit more of the spotlight, but for a fun (albeit confusing) read, this one is pretty good. The ending was bittersweet, and I'm not sure if this is part of a series or a stand-alone, but I like where the author left things.