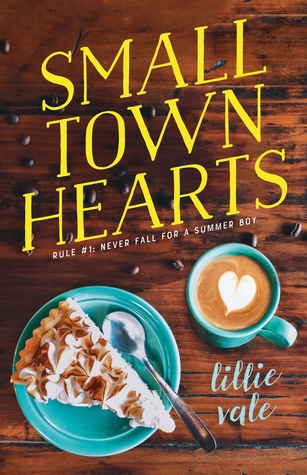 Small Town Hearts
By Lillie Vale Source
Library
Published by
Swoon Reads
on March 19, 2019
Rating:

Rule #1 - Never fall for a summer boy.

Fresh out of high school, Babe Vogel should be thrilled to have the whole summer at her fingertips. She loves living in her lighthouse home in the sleepy Maine beach town of Oar's Rest and being a barista at the Busy Bean, but she's totally freaking out about how her life will change when her two best friends go to college in the fall. And when a reckless kiss causes all three of them to break up, she may lose them a lot sooner. On top of that, her ex-girlfriend is back in town, bringing with her a slew of memories, both good and bad.

And then there's Levi Keller, the cute artist who's spending all his free time at the coffee shop where she works. Levi's from out of town, and even though Babe knows better than to fall for a tourist who will leave when summer ends, she can't stop herself from wanting to know him. Can Babe keep her distance, or will she break the one rule she's always had - to never fall for a summer boy?
This was a book that I picked up from the library because the cover really caught my eye, and the synopsis sounded like a cute summer read.
While I loved the setting (and got a bit of a Stars Hollow vibe, which I always enjoy), I just could not get invested in the characters and the story.
I also thought that there would be something to Babe's disappearing coworker Ariel, but that little story snippet went nowhere, which was strange to me. I also got really tired of reading the words "summer boy".
I kept reading hoping that I would get into it, but I couldn't. I'm not sure why, because it was a sweet summer story, but I guess it just wasn't for me.