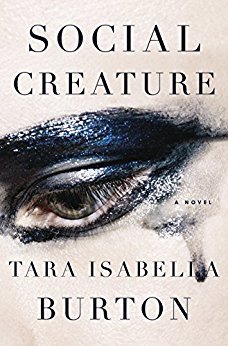 Social Creature
By Tara Isabella Burton Source
Library
Published by
Doubleday
on June 5, 2018
Rating:

They go through both bottles of champagne right there on the High Line, with nothing but the stars over them... They drink and Lavinia tells Louise about all the places they will go together, when they finish their stories, when they are both great writers-to Paris and to Rome and to Trieste...

Lavinia will never go. She is going to die soon.

Louise has nothing. Lavinia has everything. After a chance encounter, the two spiral into an intimate, intense, and possibly toxic friendship. A Talented Mr. Ripley for the digital age, this seductive story takes a classic tale of obsession and makes it irresistibly new.
This was a dark, twisted book that I read fairly quickly. I wasn't quite sure what to expect from it, but I'd had it on my TBR for a bit and was looking forward to reading it when my library hold came in.
I do like a good toxic friendship story, and Social Creature certainly fits the bill! This was a book full of mostly unlikable, unsympathetic, selfish, arrogant characters, and I really enjoyed reading about them!
I liked the writing and the story, but one of the drawbacks to having such vapid, obnoxious characters in the book is that I didn't actually care about any of them. I was mainly interested in seeing how this book ended out of curiosity, not out of any emotional connection or suspenseful storytelling.
Social Creature was a fun read, and the plot kept me reading so that I finished it in a couple of days, but it was not one that made me really feel anything (besides annoyance and mild disgust at some of the characters).