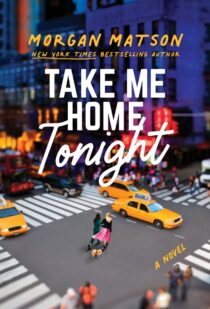 Take Me Home Tonight
By Morgan Matson Source
Received from the publisher
Published by
Simon & Schuster Books for Young Readers
on May 4, 2021
Received from the publisher in exchange for an honest review. This does not affect my opinion of the book or the content of my review.
Rating:

Two girls. One night. Zero phones.

Kat and Stevie—best friends, theater kids, polar opposites—have snuck away from the suburbs to spend a night in New York City. They have it all planned out. They'll see a play, eat at the city's hottest restaurant, and have the best. Night. Ever. What could go wrong?

Well. Kind of a lot?

They're barely off the train before they're dealing with destroyed phones, family drama, and unexpected Pomeranians. Over the next few hours, they'll have to grapple with old flames, terrible theater, and unhelpful cab drivers. But there are also cute boys to kiss, parties to crash, dry cleaning to deliver (don't ask), and the world's best museum to explore.

Over the course of a wild night in the city that never sleeps, both Kat and Stevie will get a wake-up call about their friendship, their choices…and finally discover what they really want for their future.

That is, assuming they can make it to Grand Central before the clock strikes midnight.
I love Morgan Matson's books, and even though I didn't totally love her last one, I was so looking forward to this. The synopsis sounded so intriguing, and I love that cover.
I am happy to report that I loved this book! It's a super fun read. I loved the focus on Kat and Stevie's friendship, and the way the story took me on their adventures. Honestly, stories that involve miscommunications or bad timing can make me anxious, but this one was a fun ride.
There are a lot of characters, and there is a lot going on but somehow Morgan Matson makes it all work! I laughed, I smiled, I swooned. Recommended!