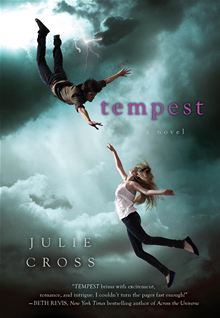 Tempest
By Julie Cross Series:
Tempest #1
Source
Library
Published by
St. Martin's Griffin
on January 17, 2012
Rating:

The year is 2009. Nineteen-year-old Jackson Meyer is a normal guy… he's in college, has a girlfriend… and he can travel back through time. But it's not like the movies — nothing changes in the present after his jumps, there's no space-time continuum issues or broken flux capacitors — it's just harmless fun.

That is… until the day strangers burst in on Jackson and his girlfriend, Holly, and during a struggle with Jackson, Holly is fatally shot. In his panic, Jackson jumps back two years to 2007, but this is not like his previous time jumps. Now he's stuck in 2007 and can't get back to the future.

Desperate to somehow return to 2009 to save Holly but unable to return to his rightful year, Jackson settles into 2007 and learns what he can about his abilities.

But it's not long before the people who shot Holly in 2009 come looking for Jackson in the past, and these "Enemies of Time" will stop at nothing to recruit this powerful young time-traveler. Recruit… or kill him.

Piecing together the clues about his father, the Enemies of Time, and himself, Jackson must decide how far he's willing to go to save Holly… and possibly the entire world.
This book had been on my radar for some time, since I knew it was all about time-travel.
I love time travel and alternate universe ideas, so I was very eager to read this. It is the first in a trilogy, which doesn't surprise me because a lot of the YA books I've read this year have been part of a series.
As for the story itself, I liked it. First of all, the way time travel works in this book was great – as Jackson put it, forget everything you know about time travel. He can do what is called a 'half jump' back in time, where his home base remains the same, no matter when/where he jumps back, and he returns to home base after every jump. Whatever he does in his jump doesn't affect time in his present, home base time. Until, however, he sees his girlfriend Holly get shot and jumps two years back in time, unable to return to his home base.
Besides Jackson and Holly, the other main characters in this book are Adam, their friend who knows about Jackson's time travel abilities and has been helping him do some experiments, and Jackson's dad. There are also flashbacks where we learn about Jackson's dead twin sister, Courtney. All of these characters were interesting and I wish I could have learned more about them in this book, particularly Adam (I liked his humour and his geekiness) – but I suppose I'll have to read the rest of the series to get to know the characters better.
The end of the book starts to explore a larger story than just Jackson's predicament – a group of time travellers known as the Enemies of Time, who may or may not want to mess with the future. Obviously this is going to be dealt with much more in the second book, but I learned just enough about them in this book to pique my interest, and that combined with the somewhat ambiguous ending ensures that I will be looking for the sequel next year.
While the story took some mind-bendy journeys through time and possibly alternate timelines, if you can keep up with it all, it's pretty fun. The copy I borrowed from the library was over 300 pages, and it did drag at times, but I still recommend this book if you like YA and sci-fi!