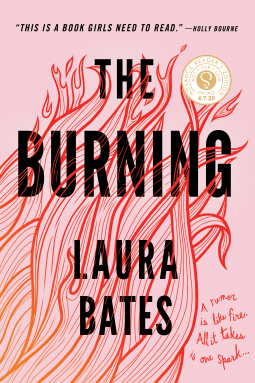 The Burning
By Laura Bates Source
Received from the publisher
Published by
Sourcebooks Fire
on April 7, 2020
Received from the publisher in exchange for an honest review. This does not affect my opinion of the book or the content of my review.
Rating:

A rumor is like fire.

Once a whore, always a whore.

Roses are red.
Violets are blue.
Anna's a slut.
We all know it's true.

And a fire that spreads online... is impossible to extinguish.

New school. Check.
New town. Check.
New last name. Check.
Social media profiles? Deleted.

Anna and her mother have moved hundreds of miles to put the past behind them. Anna hopes to make a fresh start and escape the harassment she's been subjected to. But then rumors and whispers start, and Anna tries to ignore what is happening by immersing herself in learning about Maggie, a local woman accused of witchcraft in the seventeenth century. A woman who was shamed. Silenced. And whose story has unsettling parallels to Anna's own.

From Laura Bates, internationally renowned feminist and founder of the Everyday Sexism Project, comes a debut novel for the #metoo era. It's a powerful call to action, reminding all readers of the implications of sexism and the role we can each play in ending it.
This was a really intense, anxiety-inducing read for me, but at the same time I couldn't put it down.
I did think there would be more of the story about Maggie (the woman accused of witchcraft in the 17th century) in this story, but as a subplot it added an interesting parallel to Anna's story. I guess I just thought, based on the synopsis, that it would be a bigger part of the story.
I liked this book, and I know it might not seem realistic to some readers in the sense of its resolution, but I wanted to read something that offered some hope, which this book did in the end, despite the bleak subject matter and the torment that Anna suffers.