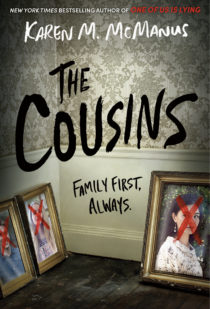 The Cousins
By Karen M. McManus Source
Received from the publisher
Published by
Delacorte Press
on December 1, 2020
Received from the publisher in exchange for an honest review. This does not affect my opinion of the book or the content of my review.
Rating:

Milly, Aubrey and Jonah Story are cousins, but they barely know each another, and they've never even met their grandmother. Rich and reclusive, she disinherited their parents before they were born. So when they each receive a letter inviting them to work at her island resort for the summer, they're surprised…and curious.

Their parents are all clear on one point—not going is not an option. This could be the opportunity to get back into Grandmother's good graces. But when the cousins arrive on the island, it's immediately clear that she has different plans for them. And the longer they stay, the more they realize how mysterious—and dark—their family's past is.

The entire Story family has secrets. Whatever pulled them apart years ago isn't over—and this summer, the cousins will learn everything.
This was a really fun, twisty YA thriller, and probably my favourite book by Karen McManus. It was a good pick for my first read of 2021!
I liked the island setting. It gave the story a small-town feel but also, given the island's tiny size, a remoteness which became almost claustrophobic as the story progressed.
I also thought the multiple POVs worked. Milly, Aubrey, and Jonah's voices seemed distinct, although combined with the flashbacks, it was initially a little confusing and hard to keep track of who was who.
The mystery was so enticing! Years of family secrets and identity issues made for quite a page-turner here. Recommended for YA mystery readers!